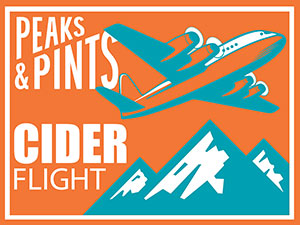 Ultimately, cider is a regional product, and not every part of the country has access to the best varieties of apples to make it. Even if a grower planted an orchard today, it would be at least seven years before those trees produced their first fruit. Not only are Washington and Oregon two of the country's biggest states for beer and wine, but the Pacific Northwest is leading the way with craft ciders, too. It makes sense, especially as Washington leads the nation in apple production (6.57 billion pounds in 2020). Since it's Monday, the day of the week when we suggest a to-go apple flight, we thought local cranberry cider sounded delicious. Stop by Peaks & Pints and grab Peaks and Pints Monday Cider Flight: South Sound Cranberries.
Peaks and Pints Monday Cider Flight: South Sound Cranberries
Incline Cranberry
6.5% ABV
When poured in a glass, this cider looks like a serving of cranberry juice. And first taste certainly tricks you into thinking you're drinking hard juice — of course, because that's what cider is — but tartness doesn't overwhelm the drink. This is a well-balanced cider made with 100 percent apple juice infused with real cranberry juice and a hint of key lime for a bright and slightly tart cider.
Fierce County Gin Gin Cran
6.5% ABV
John and Tolena Thorburn adore craft beer. For 15 years they traveled the world drinking it. But an oversaturated market led them to cider. Learning and enjoying the varying styles and flavors unique to each brewer and set of ingredients, the Thorburns applied that experience to years of homebrewing and cidermaking. In 2017, Fierce County Cider launched its first commercial operating space in a 97-square foot ciderhouse in Puyallup. The ciderhouse is built for efficiency, utilizing the latest brewing technology and equipment to allow lead cidermaker Tolena to create "fiercely" ciders, including Gin Gin Cran. The local cidery's second release, Gin Gin Cran is a light, semi-sweet cider with just a touch of tartness from the cranberry, balanced perfectly with fresh ginger flavor.
Whitewood Cranberry Douglas Fir NW Winter Cider
6.9% ABV
Whitewood Cider out of Olympia renamed their annual holiday cider made with cider fermented from apples grown in Washington, blended with a seasonal punch of crisp cranberry, and a piney citrusy Douglas fir needle extraction to help you make your holiday spirit a little bit brighter.
LINK: Peaks & Pints cooler inventory
---