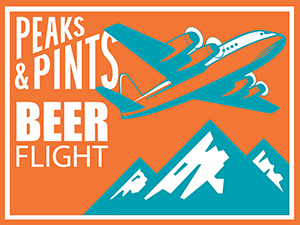 Founded in 2012 by Bellingham native David Vitt, Kulshan Brewing is one of the fastest-growing breweries in Whatcom County. Just one year after opening, they doubled the size of their brewhouse to 15 barrels to keep up with demand. In 2015, Kulshan opened a second brewery, affectionately named "K2", across town with a 30-barrel brewhouse. In 2019, Kulshan won the Peaks & Pints Tournament of Beer: Northwest Pilsners. Last summer, Kulshan opened Trackside Brewery and Beer Garden, is a pilot brewery and seasonal, pop-up beer garden located on the former Georgia Pacific paper mill site in downtown Bellingham's redeveloping waterfront district. In addition to their delicious beers, the Kulshan crew are all about outdoor adventures, dog hugging, collaborations, charitable contributions, and community interaction. Today, Peaks & Pints checks in with Kulshan in our to-go flight, Peaks and Pints Pilot Program: Kulshan On the Fly.
Peaks and Pints Pilot Program: Kulshan On the Fly
Kulshan Mossy Rock Dry Irish Stout
5% ABV, 30 IBU
A style that gained international fame thanks to Guinness, Irish Dry Stouts are characterized by a smooth malt body, high drinkability and a dry roasty finish. Kulshan Brewing's Mossy Rock is a traditional take on the style, brewed with Golden Promise, roasted barley, Chocolate malt, flaked barley, and Cluster hops, boasting bready malt notes and coffee-like roasted malt notes, and a clean dry finish that is a bit surprising given its black color.
Kulshan Plank Brothers
5.2% ABV
Kulshan Brewing's Pilsner won Peaks & Pints Tournament of Beer: Northwest Pilsners in the spring of 2019. Kulshan's Pilsner beat 63 other Northwest brewed pilsners to take home the championship trophy. The pilsner experts brewed another pilsner, this time with the help of The North Fork Brewery in Deming, Washington, east of Kulshan's Bellingham locations. Their Plank Brothers Pilsner offers crisp malt notes and a spicy, floral hop bouquet accentuated by citrus and red berry notes, thanks to Ariana, Saphir, Belma, and Lotus hops.
Kulshan Shucks On The Beach
7% ABV,
The helles bock, or Maibock, is most often a golden to clear copper-colored beer with firm malty aroma and flavor. Hops provide accent and balance and can sometimes provide spiciness in the background. Maibock refers to the springtime serving ("Mai" is May in German) of the brew. Its other name, helles (also German), refers to the beer's pale color. These lagers are traditionally brewed in the dead of winter and aged until spring. Kulshan Brewing and Taylor Shellfish Farms ignored the month and took a stroll on the beach and invented a helles bock with German Pilsner and Vienna malts providing a rich, bready malt profile, coriander and pink peppercorns adding subtle fruity and spicy accents, and sea salt adding just the slightest hint of refreshing salinity.
Kulshan James Street IPA
7% ABV, 70 IBU
With a cool can design featuring the original cat for their Bastard Kat IPA and named after the street where their original Sunnyland neighborhood brewery sits, James Street IPA is the first release in Kulshan's three-part anniversary series celebrating their upcoming 10th anniversary! Balanced and playful, this classic West Coast IPA pays tribute to Bastard Kat; the beer that has played such a defining role in the success and growth of this brewery. Slightly biting hop bitterness blends with smooth bready malt notes, and is accented by big citrus hop character, along with floral and orchard fruit accents.
Kulshan Zebra Stripes
7% ABV, 40 IBU
Soft, balanced, and supremely fruity, Zebra Stripes IPA offers grapefruit and tangerine notes, but are heavily supported by tropical fruit and red berry accents, all resting upon a smooth and pillowy malt body.
Kulshan Early To Bed Early To Shred
7% ABV
Hopped with Citra, Amarillo, and Azacca, this hoppy IPA offers smooth drinking with citrus notes of orange and sweet tangerine, along with mango and light piney bitterness.
LINK: Peaks & Pints cooler inventory
---