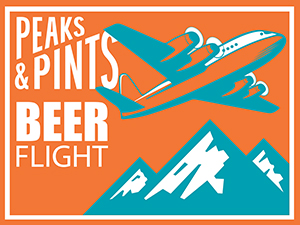 A group of more than 70 independent UK beer shops have forged a path together to highlight their sector and host an annual celebration. Indie Beer Shop Day will be celebrated today from Perth to Truro, Whitley Bay to Cardif, and everywhere in between. The first #IndieBeerShopDay took place July 18, 2020, when — during the pandemic — more than 40 independent beer shops came together to collaborate with an indie UK brewery — Donzoko — and release a beer (Indie Graft) highlighting and celebrating their sector within the beer ecosystem. Today's event aims to build on the 2020 collaboration with a strategic plan to develop an annual national day for the sector, taking inspiration from Record Store Day. Indie Beer Shop Day's goal is to aid a coordinated recovery and revitalization of each local high street up and down the UK. Peaks & Pints joins the fun with a to-go of Samuel Smith's beers. Samuel Smith's Brewery in Yorkshire is England's oldest brewery, founded in 1758. Stop by our craft beer bar, bottle shop and restaurant for Sam Smith beers in our flight, Peaks and Pints Pilot Program: Indie Beer Shop Day On the Fly.
Peaks and Pints Pilot Program: Indie Beer Shop Day On the Fly
Samuel Smith's Organic Strawberry Fruit Beer
5.1% ABV, 16 IBU
One of the oldest operating breweries in the world, Samuel Smith's Old Brewery has been brewing with the same derivative yeast strain in the same stone vats for the last 255 years. They even keep a small team of Shire horses — a breed that traditionally pulled brewery wagons — to deliver beer around its hometown of Tadcaster. But for all this tradition, Samuel Smith's is remarkably modern. All but one of its beers are vegan and the brewery has an entire line of organic ales, including its Raspberry Fruit Beer. According to Samuel Smith's, it's brewed at All Saints Brewery in Stamford, England using all manually operated equipment. Barley and wheat are combined to make an ale, fermented and aged for an extended period, then taken to Samuel Smith's brewery in Tadcaster, England. It is at this stage where they blend in pure strawberry juice to create a fruit-forward ale with malt and some bittering hops on the back.
Samuel Smith's Organic Apricot Fruit Beer
5.1% ABV
People have enjoyed apricots since prehistoric times — so long, in fact, that the origin of apricot trees, Prunus armeniaca, is uncertain. Although the scientific name suggests an origin in Armenia some scholars think apricots originated in China. They are now grown around the world where the climate allows. Apricots contribute to a stunning fruit beer: the ripe, aromatic bouquet supports a sweet, summery flavor with just a suggestion of stone-fruit tartness. Samuel Smith's Organic Apricot Ale is rich and full-bodied; the color is a glowing hazy orange.
Samuel Smith's Organic Chocolate Stout
5% ABV, 28 IBU
OK, it's chocolate time. Samuel Smith's has always brewed the old-fashioned way and the British operation still pulls water from its original well dug in 1758. Its Organic Chocolate Stout pours dark brown with a thin, khaki head. Breathe in the sweet milk chocolate, roasted malts, chocolate malt balls and a touch of vanilla. It's velvety and delicious, with creamy chocolate milk, chocolate syrup and cocoa powder dancing on the tongue. Caramel, whipped cream, marshmallows and vanilla try to cut in.
Samuel Smith's Nut Brown Ale
5% ABV, 31 IBU
Truly one of the best brown ales in the world; this is the cast and mold for lots of brewers trying to come up with a nut brown ale. Samuel Smith's Nut Brown Ale's aroma is subdued overall, showing only malted barley-related aromas of light caramel, soft red apple and a gentle walnut component. The flavor is a study in drinkability, as nothing about it dominates the palate. Toasty and robust, hints of almond and cocoa powder overwhelm the palate and a touch of burnt coffee lingers after every sip.
Samuel Smith's Winter Welcome Ale
6% ABV, 32 IBU
Samuel Smith's Winter Welcome Ale's full body is a result of fermentation in "stone Yorkshire squares" for a big, malty caramel drop with sweet toffee and just a touch of banana and cloves balanced against whole-dried Fuggle and Golding hops leading to a dry, bitter finish.
LINK: Peaks & Pints cooler inventory
---