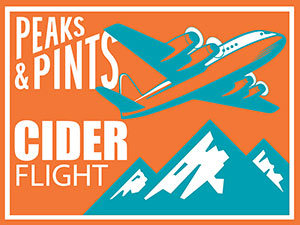 Major League Baseball is finally back. Though the season has been condensed to a slim 60 games, teams will be staying within their regions for both home and away games, and there aren't sentient fans in the stands (those cardboard cutouts are trippy though, aren't they?), we're just glad to have pro ball back at all this year. The Seattle Mariners and Oakland Athletics close out their four-game series at T-Mobile Park in a head-to-head showdown tonight. Right-handed pitcher Frankie Montas is expected to get the start for the A's in a dual against Mariners lefty Justus Sheffield. Since Peaks & Pints offers to-go cider flights every Monday, we'd thought we pair tonight's Mariners game with local, crushable Incline Cider cans. Since 2015, the Zehner family has made delicious, crushable cider, many from a dry-hopped apple base to pull out citrus aromas. They use 100 percent fresh pressed apples, no added sugar, no carbonated water, and the result are ciders that are balanced, not too sweet and super flavorful. Stop by our Proctor District craft beer and cider lodge and grab Peaks and Pints Pilot Program: Incline Cider On the Fly — four Incline Ciders to crush during the game.
Peaks and Pints Pilot Program: Incline Cider On the Fly
Incline The Explorer Hopped Cider
6.5% ABV
The Explorer Hopped Cider is the base for many of Incline's ciders. Hopped ciders are simply ciders with added hops. On the drier end of the scale while remaining smooth and well-balanced this cider is produced from a blend of Yakima apples. A hearty dose of hops is added in to create a floral nose followed by medium sweetness, apple juice with a little bit of hops flavor that adds to the crispness. The finish is almost totally tart and dry.
Incline Cranberry
6.5% ABV
When poured in a glass, this cider looks like a serving of cranberry juice. And first taste certainly tricks you into thinking you're drinking hard juice — of course, because that's what cider is — but tartness doesn't overwhelm the drink. This is a well-balanced cider made with 100 percent apple juice infused with real cranberry juice and a hint of key lime for a bright and slightly tart cider.
Incline White Peach
6.9% ABV
From the outside, yellow and white peaches are distinguished by their skin color — deep yellow with a red or pink blush for the former versus pale and pink for the latter. Inside, the golden flesh of the yellow peach is more acidic, with a tartness that mellows as the peach ripens and softens. White-fleshed peaches are lower in acid and taste sweet whether firm or soft. White peaches also more delicate and easily bruised, which kept them from being sold in most stores until the 1980s, when hardier varieties were developed. According to Russ Parsons in How to Pick a Peach, older varieties of white peaches (and nectarines) had a bit of tang to balance the sugar, but the ones sold today are more uniformly sweet. Incline's White Peach is sweet, indeed, but not too sweet. Peach flavor does shines, though.
Incline Prickly Pear
6.9% ABV
Prickly pears are the fruit of the nopalito cactus, whose paddle-shaped stems are also eaten in the form of nopales. These cacti are found throughout the Southwestern U.S. and Mexico. While they're quite unpleasant to bare skin with their protective spines, this cactus fruit yields mild, sweet and refreshing juice. Incline's Prickly Pear offers tropical aromas and a vibrant fuchsia color accent the unique characteristics of the cactus fruit. It's earthy, bright, and semi-dry.
---