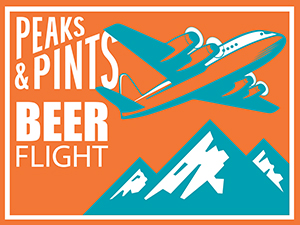 The party began in October 1810, when a great horse race was organized to celebrate the marriage of Crown Prince Ludwig and Princess Therese of Saxe-Hildburghausen. Everyone had so much fun that it was held again, and eventually became an annual event, dubbed "Oktoberfest" in 1872. It has since evolved into a 16-day Munich blowout in late September and early October. Oh, to be in that great mass of humanity, dancing to the throbbing polka beats, scarfing down sausage, kraut, and strudel, and most of all, imbibing from the holy grail … er, stein. … Not this year, obvs. Peaks & Pints did bring in a few Oktoberfest beers during this hot August. Stop by for a to-go flight of Oktoberfest biers that we're calling Peaks and Pints Pilot Program: Hotoberfest On The Fly.
Peaks and Pints Pilot Program: Hotoberfest On The Fly
Spoetzl Shiner Oktoberfest
5.7% ABV, 18 IBU
Spoetzl Brewery, brewer of Shiner beers, has legitimate Bavarian roots. Kosmos Spoetzl born and raised in Bavaria, Germany founded the brewery in 1909. Shiner has been tapping the first keg at Texas' big Oktoberfest in Fredericksburg since 2000. Brewed with 2-row, Munich and Caramel malts, along with German grown Hallertau Tradition and Hersbrucker hops, Shiner Oktoberfest sports a rich malty aroma, with a caramel sweetness that fades to a dry, hoppy finish.
Ayinger Oktober Fest-Märzen
5.8% ABV, 25 IBU
Sweet and grainy on the nose — think of fresh bread baked with honey and raisin — Ayinger Oktober Fest-Märzen features a pronounced sweetness of caramel and caramelized pumpkin on the palate. Hearty, and even a bit creamy as it warms, Oktober Fest-Märzen features a touch of bitter hops and fresh straw upfront before veering into a long malty finish. However, the beer dries out nicely to avoid a sticky or cloying aftertaste. This beer pairs beautifully with our pretzel bread sticks and side of beer mustard. Gemütlichkeit is, of course, free as always.
Dru Bru Oktoberfest
5% ABV, 28 IBU
Enjoying this toasty, session ale with heaps of Vienna malt and German noble hops at your house is much better than on Dru Bru's picturesque patio picnic table bench next to chairlifts on Snoqualmie Summit. Yeah, right. Anyway, this German inspired light-bodied black ale is dominated by roasty, burnt caramel and toffee notes. Northwest hops add a non-traditional citrus and resin character to result in a rich, yet surprisingly light-bodied and smooth dark. It's very drinkable with good refreshing qualities.
Paulaner Oktoberfest Bier
6% ABV
The Paulaner Brewery is one of the largest breweries in Munich, Bavaria in Germany and is part of the Paulaner Brewery Group, which includes Hacker-Pschorr, Auer Bräu, Hopf and Thurn, and Taxis. Founded in 1634, Paulaner is one of the six brands allowed to be served at the world-famous Oktoberfest. "The glass is full of October sunshine, strong and golden. The perfect balance of a light taste of hops and a strong note of malt. A feast of a beer, which always goes down well. This beer is only brewed for the Oktoberfest season. That's where it belongs, along with all the fun of the fair like the Ferris wheel and roasted almonds," according to Paulaner Oktoberfest Bier hype.
---