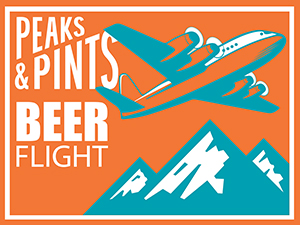 Funnier than saying "Hoof Hearted" Brewing are the Ohio brewery's can art. The cans' artist, Thom Lessner, met Hoof's head brewer Trevor Williams in the second grade. Lessner met another Hoof co-owner, Jarrod Bichon in the fourth grade, and eventually met the last owner, Ryan Bichon. They're all on the same zany page. Lessner doesn't brew the delicious craft beer, but he take's their beer name — influenced by hops, hair metal, and video games — and runs with it — recently toward John Cusack's Better Off Dead movie. Williams and Jarrod Bichon, a wine salesman and welder, respectively, met at Ohio State University in 1995 and basically drank craft beer across the nation. They opened Hoof Hearted in 2011 in a barn just northeast of Columbus, Ohio, in Marengo — the middle of nowhere. The barn's taproom is complete with a giant projection screen rotating through '80s movies. The opened a second location in Columbus, which screams Danish art gallery. Today, Peals & Pints presents a to-go beer flight from Hoof Hearted, a flight we call Peaks and Pints Pilot Program: Hoof Hearted On The Fly.
Peaks and Pints Pilot Program: Hoof Hearted On The Fly
Hoof Hearted Tickling the Ivories
7.2% ABV
Totally dusted, started Pablo Cruz," reads Hoof Hearted Ticking the Ivories hype. "And I can truly say I've never felt better. Posers often overcomplicate it, but I've found all truths associated with the act are easily encapsulated in a few words. Skiing is a dance, and the mountain always leads. Re-tune that Keytar boiz. Were bustin Rig out of Ski Jail! Citra, Calypso, and Comet carve a trail full o tropics complimented in full by a dual-duty hazemaker. Is it juice? From concentrate? What'd you say the name of. …"
Hoof Hearted $60 Nachos
8% ABV
"$60 Nachos? That's what happens when you let dad outta the house! Screams $60 Nachos hype. "Wanna drink some ice cold beer? Wayyyyelll Imma letcha! Prime that cheddar-cheese pump w/ the gooiest Citra, Simcoe, & El Dorado. Does it smell? NO! It stank! Plus – it itch. *SNORT" Hopped with Citra, Simcoe, & El Dorado this DIPA has huge tropical fruit notes and a big note of Simcoe dankness in the finish.
Hoof Hearted Who'd Like To Hold My Clipboard?
9% ABV
"You'll make a fine little helper. What's your name?" reads Who'd Like To Hold My Clipboard? — a line from the movie Better Off Dead. "Equipped with the right amount of fruit to make women sterile and twice your daily dosage of milk sugar and vanilla, this decadent Frappe DIPA hoists enough heft to freeze the left half of your brain. Hopped past the stop sign w/ El Dorado and Mosaic, this stuff is better than that monster eggnog our brother makes with lighter fluid. And we'd know. We've been going to this high school for 7 and a half years now…we're no dummies."
Hoof Hearted Key Bump XXXtra Powder
10.5% ABV
Is there a John Cusack movie from the '80s that you adore more than Better Off Dead? The dark comedy about a teen named Lane Meyer — who turns suicidal when his girlfriend breaks up with him — seems to be one of Hoof Hearted Brewing's favorite movie. Last week, Hoof's Who Wants To Hold My Clipboard? hazy IPA arrived to our cooler. This week, Key Bump XXXtra Powder triple IPA arrived at Peaks with Better Off Dead character Charles De Mar on the can. Brewed with 10 pounds of hops per barrel of El Dorado, Mosaic, Motueka, and Simcoe hops, Key Bump is a hazy, juicy and sweet triple IPA.
Hoof Hearted South of Eleven
10.2% ABV
"Pass the crumpets old boy and slather them in the finest tangerine marmalade," reads South of Eleven hype. "Sticky weed jeeves. The triple IPA hits the nose with juicy tropical scents, followed by slight dankness, pineapple, and orange with a Northwest malt backbone.
---