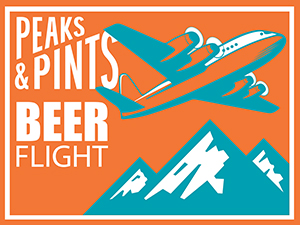 If you go rushing through life you're going to miss out on a lot of good things. Of course, the smell of roses is the classic example, but if you're always in a hurry you're also going to miss letting a piece of maple sugar candy dissolve slowly on your tongue, or the sight of the sun when it melts all the way into the ocean at sunset, or the great out-takes at the end of a Jackie Chan movie. No, Peaks & Pints hasn't gone all maudlin and reflective like a movie on Lifetime. We just want to point out that if you're waiting for the latest hyped craft beer, you're missing out on some great beer that deserves your attention. Today, Peaks & Pints points out a few gems in our cooler in today's to-go beer flight, Peaks and Pints Pilot Program: Hidden Beer Gems On the Fly.
Peaks and Pints Pilot Program: Hidden Beer Gems On the Fly
Kulshan Helles German-Style Lager
5% ABV, 15 IBU
Kulshan Brewing is true to the German style of the helles lager. It has a light bready sweetness from the pilsner malt that gives it a solid backbone while the Hallertau Mittelfrüh lend herbal aroma, slight floral and herbal flavor, and spicy dryness. Overall, it's nicely balanced, flavorful, clean and crisp. And, as the helles should be, it's light enough to have another. Put this one your hidden gems six-pack. Oh, Helles grabbed a silver at the 2019 Washington Beer Awards and a bronze the same year at the North American Beer Awards.
Perennial 2019 Abraxas
11.5% AVB
"Dude, you still have bottles of Abraxas?" asked a stunned Matt McLaren, the brand manager at Orcas Distributing. Indeed, Matt. One of the world's best beers has seen some lonely times on the bottom row of our cooler. Abraxas is Perennial Artisan Ales' Prodigal imperial oatmeal milk stout brewed with cacao nibs, ancho chiles, vanilla beans and cinnamon. Abraxas is brewed only once a year in a very small quantity and is in such high demand that on release day, beer devotees stand in line for hours just to get their hands on a bottle. The imperial stout is so black and viscous it almost absorbs all the light in the room, but you could find it by its tantalizing chocolaty, spicy aroma. It tastes mainly of cocoa and cinnamon with a touch of spiciness from the ancho chiles.
Boundary Bay Nutward Bound
5.9% ABV
In 1995, Boundary Bay Brewery opened in Bellingham with a scotch ale. Chuckanut Brewery came along in 2008, winning Small Brewpub of the Year at the Great American Beer Festival in 2009. These two breweries founded the Bellingham beer scene, so it's only natural (right?) that their collaboration would be a beer style straight from the history books. The California common, or steam beer, dates back the late 1800s in California when refrigeration was a great luxury. This amber-like beer is usually brewed with a special strain of lager yeast that works better at warmer (ale-like) temperatures. Anyway, Boundary Bay and Chuckanut brewed Nutward Bound, a delicious, creamy California common with aroma and flavor of toasted malts, some sweet bread, herbal earthiness, and hints of citrus.
Old Schoolhouse Brite Side IPA
6.5% ABV
We tapped the keg of Old Schoolhouse Brewery Brite Side IPA. It blew in a day. We were allocated a case of the limited released Brite Side cans. They went in a day. Ladies and gentlemen, hidden on the bottom row of the Washington state section of our cooler are several 22-ounce bottles of this West Coast IPA. Brewed with four types of hops, the flavors can be described as bright, dank, and delicious. Find this gem!
---