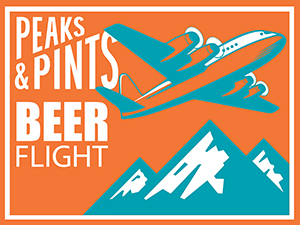 Sunny Parsons founded Heathen Brewing in 2012 in a converted barn near his home in outer Vancouver. With "Progressive Ales for the Promiscuous Palate" as the mission statement, Parsons and co-owner and head brewer Rodney Stryker made small batches with local ingredients basically in the backwoods before opening their Feral Public House, a 2,000-square-foot restaurant and taproom in downtown Vancouver in 2015. Then, in October 2016, Heathen acquired a 20-acre vineyard in Brush Prairie. It opened the following April. Heathen just unleashed their big barrel-aged beers, plus a smoothie sour with Great Notion. Therefore, it's time for a to-go flight of Heathen beers — a flight we're calling Peaks and Pints Pilot Program: Heathen On The Fly.
Peaks and Pints Pilot Program: Heathen On The Fly
Heathen Smooth Criminal
5.7% ABV
Smoothie sour beers are the evolution of the fruited kettle soured beers when brewers add non-traditional ingredients to traditional styles to recreate baked goods and desserts in liquid form. At their essence, when talking about smoothie sours, the common denominator is always extremely large amounts of unfermented fruit puree, which is the case with Smooth Criminal, Heathen's smoothie-style sour brewed with Great Notion Brewing. In this case, it's large amounts of banana, raspberry, and strawberry.
Heathen Barrel-aged Highland Charge
11% ABV, 10 IBU
Named after the Scottish shock battle tactic when the Scots would drop their plaid kilts and full charge into battle, weapons hot with nothing but a shirt on. In that same fashion, this wee heavy Scottish ale packs a big malty assault that exposes light caramel and toffee notes that volley to a subtle hint of black cherry that will blow your kilt off.
Heathen MegaMint
9% ABV, 22 IBU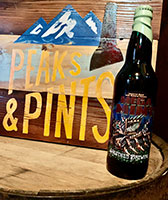 Though an official stamp of approval from the Scouts is probably out of the question (for obvious reasons), that doesn't mean a brewery can't take a little inspiration from the girls' iconic Thin Mints to whip up a brew. Heathen's MegaMint Imperial Chocolate Milk Stout is kicked up a notch by using fresh picked mint in the brewing process. The milk sugar leaves a pleasant residual sweetness that is balanced with the chocolate and biscuit notes of the specialty malt that are seductively balanced with aroma of the cacao nibs and fresh mint.
Heathen Reindeer Tears
12% ABV, 94 IBU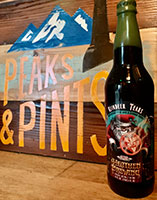 Heathen's Reindeer Tears bourbon barrel-aged American barleywine pours cloudy rosé copper with a cream-colored pillow of fine foam that reduces after a minute or so. The nose is brown sugar, burnt orange, wheat, bourbon, and citrus. The Tears begins with smooth malts molasses, a bit of toffee followed by caramel. As it warms sweet dark fruity esters appear. As the Tears rolls the bourbon, booze and light spicy oak note along with blunted aged pine hops and spicy wintertime cookies cut perfectly into the thick bodacious sweetness.
LINK: Peaks & Pints cooler inventory
---