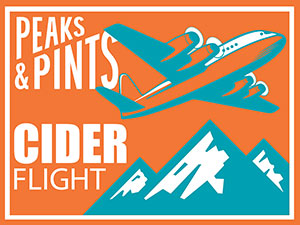 Since opening in August 2017, Dwinell Country Ales has been named one of the "The Six Best Washington Breweries Outside Seattle" by The Stranger, as well as "Top Three Small Breweries" in the country by beer writer Jeff Alworth for Craft Beer & Brewing magazine. Located in downtown Goldendale, Washington, Dwinell founder Justin Leigh not only brews Belgian style farmhouse ales, but also mixed-culture beers, delicately hopped rustic ales, barrel-aged "country ales" aged in barrels from nearby wineries in the Columbia River and Yakima Valleys, natural wine, and French style ciders. Last year, Leigh planted Domaine, an heirloom French apple variety, in Henry's Orchard, named after this son. Today, Peaks & Pints suggest you take home two Dwinell ciders in our to-go cider flight, Peaks and Pints Pilot Program: Dwinell Cider On The Fly
Peaks and Pints Pilot Program: Dwinell Cider On The Fly
Dwinell Robin – Poire
6.3% ABV
French ciders from former French sommelier Eric Bordelet are extraordinary — off-dry, wonderfully aromatic, slightly pétillant or bubbly with a complexity and finish that some Champagnes could envy. In the Pacific Northwest, it's difficult to get the same sort of intensity with the varieties of pears we have. The solution is to blend in other fruits with more acidity and tannin to make a balanced cider, which is what Dwinell Country Ales does with their Robin pear cider. The French-style cider is wild fermented from a blend of Comice, Pakham, and Taylor's Gold pears, together with Champagne Reinette apples, from E.Z. Orchards in the Willamette Valley.
Dwinell Almira – Heritage Cider
6.5% ABV
Borrowed from natural winemakers, the méthode ancestrale technique is a method of sparkling cider production where cider is bottled prior to fully completing its first full fermentation, allowing carbonation to be produced by the natural sugars found in apples. Being a formative technique, it's a bit cruder, but proponents argue that it results in greater flavor and variation. Dwinell uses the méthode ancestrale methord, or pétillant naturel (pét nat) method, to make their Normandy-style Almira – Heritage Cider from bittersweet Marie Menard, Domaines, and Muscadet de Lense apples, apples grown primarily in and around the Paye d'Auge region of northern France. It's bubblier and has more of a deeper sweet flavor due to the apples and cidermaking methods.
LINK: Peaks & Pints cooler inventory
---