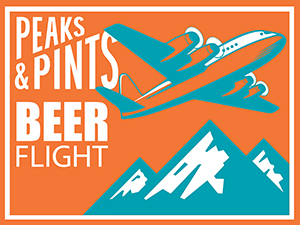 If you visit peaksandpints.com, you know we observe pseudo-holidays and exploit them into beer flights. But today — well, today is National American Beer Day, an occasion we'll let serve as an excuse to enjoy made-in-the-homeland brews. Not that we really need one. Last year, as the Brewers Association reports, the number of breweries in this country was at its highest since the 19th century — and many of those 8,884-plus establishments turned out some pretty innovative, complex, and downright delicious stuff. Beer was once the unfussy option, the tonic of the masses. On Cheers, Norm simply orders beer — no need for a name, because beer was just beer. In contrast to the perceived snobbery of wine, beer was meant for drinking, not thinking. Today that divide is not so sharp. Peaks and Pints listens to guests discussing the merits of individual hops the same way sommeliers might extol grape varietals. American beer is more interesting and nuanced than ever before. In honor of National American Beer Day, Peaks and Pints presents a to-go flight of American brewers' take on international flavors — a flight we call Peaks and Pints Pilot Program: American Beer Day On The Fly.
Peaks and Pints Pilot Program: American Beer Day On The Fly
E9 Snakehips
4.2% ABV
E9 Brewing collaborated with Upright Brewing to create their take on an Irish dry stout. Brewed with Irish stout malt, this classic black beer has all the bells and whistles of a dry stout including coffee like roast accents in flavors and aromas, with a nice dry finish and a lingering pleasant mouthfeel.
Left Hand Black Forest Nitro
7.7% ABV, 28 IBU
Inspired by the famous German dessert, Left Hand Brewing's Black Forest Nitro tempts taste buds with tart black cherries and aromas of rich chocolate cake. Layers of flavor reminiscent of spiked fresh cherries and dark chocolate ganache cascade on a canvas of nitrogen. The smooth mouthfeel is delicate and light while staying diabolically decadent.
Great Divide Wood Werks Dark 'N Stormy
8.5% ABV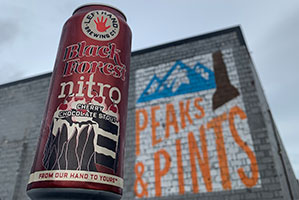 The original Dark 'n' Stormy cocktail was made with Gosling Black Seal rum and Barritt's Ginger Beer, invented in Bermuda just after World War I. Great Divide Brewing's take on the cocktail is an imperial red ale brewed with generous amounts of caramel malts to enhance the flavor and body, the color is a dark amber and the hop bill includes El Dorado and Citra. After primary fermentation, the beer was aged in 10-year-old Colombian rum barrels for several months. Once de-barreled, the beer was rested on a secondary dry hop with additions of lime leaves and puree plus fresh ginger to complete the impression of a Dark 'N Stormy cocktail.
Stone Xocoveza Tres Leches
8.5% ABV, 65 IBU
Stone Brewing's Xocoveza Tres Leches combines the inspiration of Oaxacan hot chocolate and tres leches treats in an imperial stout that's smooth, creamy and intensely indulgent. Made from all that's good about the holidays, Stone Xocoveza is brewed with chocolate, coffee, Pasilla peppers, vanilla, cinnamon, and nutmeg. The aroma is intense — cinnamon and spice up front with lingering coffee, caramel, and sweet vanilla. Sweet spices are balanced with rich and creamy chocolate. Mild roast coffee flavor shines through and vanilla enhances the intense combination. Pasilla peppers impart a light hint of heat in the finale.
LINK: Peaks & Pints cooler inventory
---