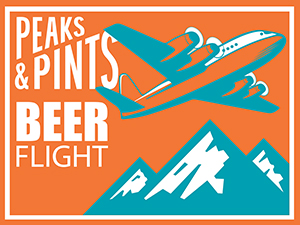 Have you ever let go of your demand on the present moment? What might happen if you do? Have you ever tried it? What happens if you forgo your poisonous insistence that something, somewhere is always wrong, broken, and flawed? You might, just might, uncover a life of surreptitious, messy, imperfect bliss. The panic might subside. The veil might lift. You might just become, as they say, more fully awake to the moments of your life, free of bogus dissatisfaction telling you, every moment of every day, that something is always wrong. You might, just might, live much, much better. Can you imagine? Maybe ponder such a thing while enjoying a to-go flight of happy beers. Stop by our craft beer bar, bottle shop, and restaurant and grab Peaks and Pints Pilot Program: Happiness On The Fly. Happiness knows no particular order, and neither does our flight. Cheers!
Peaks and Pints Pilot Program: Happiness On The Fly
Bruery Terreux Just as Kiss
5.3% ABV
The Bruery Terreux brewed a love letter to Southern California. Just a Kiss, a foeder-aged saison ale, is an ode to the orange groves that once thrived in the area. This SoCal kiss is fermented with orange blossom honey for six months in French oak foeders and finished with a final kiss of orange blossom flowers. After spending six months in French oak foeders, essentially large barrels in this case more than 250 bbls, the beer picks up earthy tones from the wood that perfectly complement the saison's floral notes and sweetness.
Mother Earth Cali Creamin' Creamsicle
5% ABV, 20 IBU
Using their flagship Cali Creamin' cream ale as a base, Mother Earth Brewing puts an even more nostalgic twist on their style-defining brew; simulating your favorite childhood classic. The only difference? You don't have to chase down the ice cream man. Cali Creamsicle features hints of vanilla and a distinct citrus cream flavor that finishes slightly sweeter than its cream ale counterpart. Just as refreshing, just as iconic, just as happy.
Baerlic Good Vibes Only
6.7% ABV
Baerlic Brewing keeps things positively righteous with Good Vibes Only hazy IPA. "Good Vibes Only is a beer built to replace that tropical vacation you probably had to cancel," says Baerlic co-owner Ben Parsons in a media release. "One of our favorite varieties, we utilize Centennial hops as the foundation of flavor and familiarity, then we layer on a huge dose of Cashmere hops for a tropical fruit, lime and very slightly coconut-y profile. Let this beer warm up for more coconut and demand Good Vibes Only from here on out!"
Block 15 Emerging Sunshine
6.75% ABV
This time of year in the South Sound, fair weather is all you can really hope for. It's a great time of year — not too hot, not too cold, and perfect for contradictory outfits like a shorts-and-sweater combo. And while the definition of a fair-weather friend is a negative one, there is nothing more delightful than having this a crisp golden IPA. Block 15 Brewing's Emerging Sunshine is, indeed, a crisp golden IPA bursting with citrus, mango, and floral notes from Northwest grown Strata, Amarillo, Citra, and Centennial hops. Its crisp 2-row malt base is gently rounded out with additions of flaked barley and honey malt, while fermentation with American ale yeast lends Emerging Sunshine a clean, refreshing finish.
LINK: Peaks & Pints cooler inventory
---