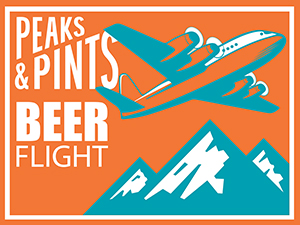 You know what would go great with your craft beer? Some music. Few things go together like drinking craft beer and listening to music. It's a combination so universal, it's no wonder why brewers like to have their beverages associated with their customers' favorite bands and artists. Some have even brewed beers with the style and artistry of these musicians in mind. In fact, Felipe Reinoso Carvalho, Ph. D., a researcher in Brussels who found you can enhance the flavor perception of your favorite brew by listening to the right jams. You're constantly surrounded by sensory stimuli, like sound, sensation, scent, and color — all of which influence your taste. You wouldn't think music would have such an impact on taste; but science proves otherwise. So, drop by Peaks and Pints today, listen to our jukebox and you gather all the beers in our to-go flight, Peaks and Pints Pilot Program: Song Beers On The Fly.
Peaks and Pints Pilot Program: Song Beers On The Fly
Abita Purple Haze
4.2% ABV, 13 IBU
You're making music, but you aren't tripping, so that new ditto looper pedal you bought on eBay just isn't working how you thought it would. No worries; there's a solution for that, and it's Purple Haze. An American wheat with pureed raspberries, it's light and a more universally legal version of the taboo alternative. Your ditto looper may still sound a bit off and colors may appear all to realistic, but not hallucinating has its upsides, too. Abita Brewing's accompanying explanation of the beer kind of feels like there should be a cloud of smoke around you and Jimi Hendrix blaring in the background: "Experience the magic of Purple Haze®.  Clouds of real raspberries swirl in this tart and tantalizing lager inspired by the good spirits and dark mysteries of New Orleans. Brewed with pilsner and wheat malts along with Vanguard hops, let the scent of berries in the hazy purple brew put a spell on you." Now, excuse us why we kiss the sky.
E9 Little Guitars
5.8% ABV
After his Carlos Montoya-inspired acoustic intro on "Little Guitars," Eddie Van Halen resumes regular programming: He picks out staggered chords that scoot over and between the chorus' downbeats. The song is off Van Halen's Diver Down album, which looks similar to E9 Brewing's Little Guitars IPA's can. It's a slightly hazy light, easy drinking IPA brewed and dry hopped with Hallertau Blanc and Nelson Sauvin imparting interesting wine grape aromatics. Expect a mango and apricot solo, too.
Structures Life of Leisure
5.8% ABV
Ernest Greene, the Georgia native who performs under the name Washed Out, wrote the song, "Feel It All Around," the lush bedroom-pop song of his album, Life of Leisure, that plays under the opening credits of Portlandia. It's Portland's anthem, whether they like it or not. We don't know if Bellingham has a theme song, but they do have a Life of Leisure IPA, thanks to their hometown brewery, Structures Brewing. Life of Leisure is brewed with Mosaic, Chinook, Cashmere, and Citra for a perfectly dry and crushable IPA.
Narrows Ganbou-Ki Hazy IPA
6.9% ABV
It takes more adjectives than a Halloween-themed Mad Lib to classify Japanese group Boris. Call them ambient, avant-garde, doom, drone, experimental, heavy, industrial, metal, minimalist, noise, psychedelic, punk, rock, sludge, and stoner. In 1992, drummer Atsuo, guitarist/bassist Takeshi, and guitarist/keyboardist Wata formed the Japanese stoner band in Tokyo. The trio have created more than 20 albums since their inception, many of which are improvised recordings released in small runs. Amplifier Worship, sophomore album, produced the song Ganbou-Ki, one of the most pulverizing songs ever made. Narrows Brewing digs Boris, so much so they created a series of beers named after the band's songs, including Ganbou-Ki Hazy IPA, dry hopped exclusively with New Zealand hops: Motueka, Bruce Blend, and NZ Cascade. It's soft and clean, with big notes of orange, pineapple and coconut.
Old Schoolhouse No Cause For Alarm
8% ABV
No Cause for Alarm was the first album released by Violinski. It became a minor hit on the albums chart, and it contained their only hit single, "Clog Dance," which reached number 17 on the UK singles chart. The album's title song, "No Cause for Alarm," lives on as Old Schoolhouse Brewery's hazy double IPA brewed with Imagine Nation Brewing out of Missoula, Montana. Simcoe, Chinook, Citra cryo, NZ Southern Cross and Mosaic cryo hops produce notes of mango, orange, peach and ripe papaya.
LINK: Peaks & Pints cooler inventory
---