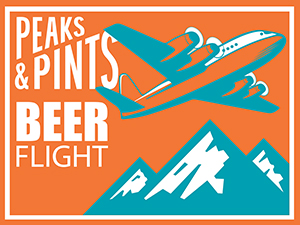 It's chocolate and it's cake. But German chocolate cake is a pure American creation — the Germans had nothing to do with it. The name comes from Baker's German's Sweet Chocolate, which is still around today. It was called "German's" chocolate after Samuel German, who invented the sweetened chocolate while working for Baker's Chocolate, which was then owned by General Foods and is now owned by Kraft. It's a chocolate that includes sugar, which provides a shortcut for bakers. Anyway, it's one of our favorite cakes with its chocolaty layers slathered in the coconut pecan frosting. As you might have guessed; it's National German Chocolate Cake Day! And, Betty Crocker, get your booze on — Peaks & Pints' German chocolate cake to-go flight could be the sweetest thing to ever hit your lips and liver. It tastes like German chocolate cake but will probably give you fewer cavities and more gusto in your game. But be warned: The beers are delicious and potentially addictive. Stop by and grab Peaks and Pints Pilot Program: German Chocolate On The Fly.
Peaks and Pints Pilot Program: German Chocolate On The Fly
Iron Horse Aloha Death
6.53% ABV, 12 IBU
Ellensburg, Washington's Iron Horse Brewery is an iconoclastic brewery. They're not ones to copy/paste a style into their profile just to compete with the Irish beer giants. Quilter's Irish Death was born of a reverence to the dry Irish stout. Created by the Iron Horse founder Jim Quilter, this craft beer has been called a sweet stout, strong ale, and Scotch ale. We call it delicious with a massive amount of malt that goes down easy. The Aloha version adds coconut. Pure cocoa and all the complexity of Irish Death rolled together with the coconut notes remind us of German chocolate cake
Icicle Brewing Dark Persuasion
6.5% ABV, 22 IBU
Icicle Brewing Co. sits in the Bavarian theme park known as the city of Leavenworth, which seems perhaps the most appropriate place for a brewery. Owner Oliver Brulotte, who has deep family roots in Washington's hop farming history, basically launch the Wenatchee Valley's craft-beer boom. The brewery draws their water from nearby Icicle Creek, a run-off from surrounded by numerous mountain ranges including the Stuart Range and Wenatchee Mountains. And, Icicle Brewing makes a liquid German chocolate cake, Dark Persuasion. Seriously, this stout tastes exactly like German chocolate brownie, with strong chocolate and coconut notes, a touch of vanilla and a smooth finish.
Great Divide Macaroon Yeti
9.5% ABV
Macarons, those glorious little cookies that look like an OCD pastry chef's re-envisioning of the hamburger as tiny French patisserie experiment, have become trendy. And unlike the rise of the cupcake, the macaron is something we greeted with great happiness. Peaks & Pints finds the same happiness when we sip on Great Divide Brewing's Macaroon Yeti. The OG Yeti opens with a massive, roasty, chocolate, coffee malt flavor that eventually gives way to rich toffee and burnt caramel notes. Macaroon Yeti adds almonds, coconut, and lactose to enhance the sweetness of this indulgent treat, while the traditional Yeti roastiness and chocolate fades slightly into the background.
Short Throw Perpetual Night
12.3% ABV
Five months after his planned brick-and-mortar spot fell through, Virginian Brandon Tolbert moved his Short Throw Brewing Co. to the Twelve Percent Beer Project facility, a contract brewery near New Haven, Connecticut. His Perpetual Night is a viscous imperial stout brewed with a chocolate forward malt base, then adorned with Vermont maple syrup, tons of toasted coconut, and coffee.
---