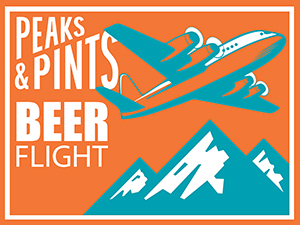 For many Tacomans, the West Coast IPA defined the style a decade ago with its raw piney spiciness and dry grapefruit assertiveness. Brewers tried to shove as many hops in a glass as possible. But expectations of hoppy beers have been changing. Folks at Peaks & Pints ask for juicy tropical fruity IPAs through their masks. They smile when they read Sabro, Galaxy, Citra, Denali and El Dorado on the menu boards as they know notes of orange, apricot and pineapple will pour into their pints. These hops are added later in the boil and at whirlpool to maintain the aroma, as well as dry hopped in copious amounts. Also, English yeasts offer sweetness, as well as fruit flavors, and the absence of bittering hops leaves the beer leaning more toward fruit flavors. Today, Peaks & Pints presents a to-go flight of fruity IPAs, a flight we call Peaks and Pints Pilot Program: Fruity IPAs On The Fly.
Peaks and Pints Pilot Program: Fruity IPAs On The Fly
Counterbalance Can't Leave Mango Hazy IPA
5.2% ABV, 45 IBU
As part of Counterbalance Brewing's sixth-anniversary, the Seattle historic Georgetown neighborhood brewery added mango puree to their Well Enough Alone hazy IPA, imparting a distinct mango flavor to accommodate the base beer brewed with El Dorado, Mosaic, Amarillo, Citra, Columbus. It drinks like a fruity pale ale.
Sig Raspberries & Dragons Hazy IPA
6.8% ABV, 25 IBU
Jeff Stokes knows a thing or two because he's brewed a thing or two. He homebrewed while earning a political economics degree at The Evergreen State College. He poured beer at notable Olympia craft brew houses Skep & Skein Tavern and Gravity Beer Market. He earned the founding assistant brewing position at Three Magnets Brewing, earning numerous medals with head brewer Pat Jansen, and eventually commanding the 3-Mag brewhouse where he brewed his fair share of fruity milkshake IPAs. Today, he's the head brewer at Sig Brewing brewing all styles, including fruity such as Raspberries & Dragons Hazy IPA. He infused this Enigma and Barb Rouge double dry hopped IPA with raspberries and dragon fruit for an extremely fruity yet not overly thick IPA.
Decadent Orange Crusher
8.5% ABV
In 2016, Mad scientist brewer Paul Pignataro founded Decadent Ales in Mamaroneck, New York, and is distributed by Twelve Percent Beer Project, the brewery arm of Twelve Percent Imports, as well as contract-brews at Thimble Island Brewing Co. and Dorchester Brewing Co. in Connecticut and Massachusetts. Decadent Ales Orange Gusher is a double IPA made with orange puree. The nose is sweet orange. On the tongue, expect smooth, sweet citrus and orange rind bitterness,
Epic Creamsicle IPA
8.5% ABV, 45 IBU
Day after day of going for milkshakes, tweaking their recipe, and literally tons of melted orange popsicles, finally led Epic Brewing to this Creamsicle double IPA. "We used oranges plucked directly from our very own brown paper lunch sacks and milk from the cartons in vacant lunchrooms to brew this iconoclastic milkshake IPA. Our brewers had one goal in mind: to create a beer that we can all reminisce childhood summers with and to keep from ruminating over the summer of Covid," states Creamsicle hype. This double IPA is brewed with lactose and oranges for a thick and creamy creamsicle.
Abomination Dreamscape IIIPA
10% ABV
Triple IPA brewed with Skygazer Brewing, Abomination Brewing's Dreamscape is brewed with raspberries, strawberries, blueberries, frosting, lactose, and vanilla beans for a strawberry and mixed berry nose, followed by a creamy mixed berry taste.
---