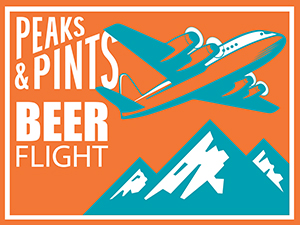 Normally condemned to rot in a mediocre ceramic bowl, the fruit cup has finally been given the respectable and stylish home it deserves —Peaks & Pints' to-go beer flight. That's right, this is not your mama's fruit cup. It's more like a fruit cup on … hops. Once considered a maligned novelty, fruit is now one of the arenas where brewers experiment most, uh, fruitfully. According to archeologists, the Mesopotamians were brewing with fruit thousands of years ago. In 1999, Fruitheads became a type a drinker after they gobbled up gallons of Dogfish Heads' Aprihop, a fruit beer made with pureed apricots. So, Fruitheads, stop by Peaks & Pints and grab our to-go beer flight, Peaks and Pints Pilot Program: Fruitheads Beer Flight.
Peaks and Pints Pilot Program: Fruitheads Beer Flight
Schöffferhofer Juicy Pineapple
2.5% ABV
This year, Radeberger Gruppe USA debuted Schöfferhofer Juicy Pineapple, a mix of authentic, unfiltered German hefeweizen with 50 percent pineapple juice.
Samuel Smith Organic Apricot Fruit Beer
5.1% ABV
One of the oldest operating breweries in the world, Samuel Smith's Old Brewery has been brewing with the same derivative yeast strain in the same stone vats for the last 255 years. They even keep a small team of Shire horses — a breed that traditionally pulled brewery wagons — to deliver beer around its hometown of Tadcaster. But for all this tradition, Samuel Smith is remarkably modern. All but one of its beers are vegan and the brewery has an entire line of organic ales, including its Apricot Fruit Beer. According to Samuel Smith's, it's brewed at the All Saints Brewery in Stamford, England using all manually operated equipment. Barley and wheat are combined to make an ale, fermented, and aged for an extended period, then taken to Samuel Smith's brewery in Tadcaster, England. It is at this stage where they blend in pure fruit juice to create a fruit-forward ale with malt and some bittering hops on the back.
Great Notion Berry Pusher
5.5% ABV
Wildflower honey is honey, produced from the nectar, that the bees have gathered from multiple flower sources or varieties. Honeybees practice a trait known as "floral fidelity" when scout bees come back to the hive and do their waggle dance to tell the other bees where they went, all the other bees will follow their instructions to the letter. If possible, all the bees will continue to focus their pollination on the flower source described in the waggle dance. Great Notion Brewing performs the dance when they brew their fruited tart Berry Pusher. It's fermented with flaked oats and buckets of wildflower honey, strawberry, and blueberry puree.
Sig Communication Is Key Lime
6.7% ABV, 10 IBU
Once life returns back to normal, Duncan Susag, brother Alex Susag and cousin John Samuelson will open Sig Brewing on the edge of Tacoma's Historic Brewery District, along Tacoma Avenue South in the building formerly occupied by Duncan's concrete design firm, Studio Make. During construction of the beautiful concrete bar and other taproom artistry, head brewer Jeff Stokes, former head brewer at Three Magnets Brewing in Olympia, has been teasing the South Sound will his talent. Stokes' Communication Is Key Lime drinks like a light bodied fruit beer but reminds of key lime pie. Sabro hops coax out flavors of lime and coconut, but Stokes stoked the flavor more with a massive amount of key lime juice built upon Nabisco graham crackers and toasted coconut.
Huyghe Delirium Red
8% ABV, 10 IBU
Huyghe Brewery was founded in 1906 by Leon Huyghe in city of Melle in East Flanders, not far from Ghent, the oldest, active brewery in that corner of Belgium. As with most continental breweries, Huyghe traces its original history way back, in this case to 1654 as it displays on its logo. Their Delirium Red is a dark and strong cherry flavored Belgian fruit beer. Based on their blonde ale this has a light pink and compact head, a soft aroma of almond, Belgian yeast, sweet fruit, and sour cherries. It tastes nothing like the aroma — there are raspberry, elderberry, apple, and blackberry flavors. It's an excellent dessert beer.
LINK: Peaks & Pints cooler inventory
---