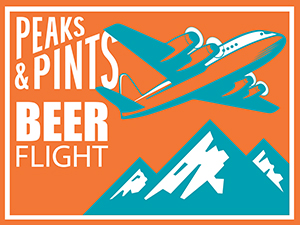 Tillamook, Oregon, is a sleepy, remote, and often damp coastal town 74 miles west of Portland. It smells of sea air and dairy farms. It's also home to founder and head brewer Trevor Rogers' de Garde Brewing, whose singular focus is spontaneously fermented, barrel-aged beers. The brewery, found near the Tillamook Air Museum's massive blimp hangar, barely distributes, meaning fans must either track down bottles on the Internet or visit in person. Once you're there, the handful of wild ales and guest rarities on tap and limited-release bottles available to go don't disappoint. Berliner weisses, Belgian ales, porters, and more are left to naturally ferment in an open-air cool ship, letting wild yeast descend from the Oregon Coast air. Local fruit and a variety of cherry, oak and gin barrels add bold notes and tart overtones. Peaks and Pints grabbed three de Garde beauties for today's to-go beer flight that we call Peaks and Pints Pilot Program: de Garde Beer Flight.
Peaks and Pints Pilot Program: de Garde Beer Flight
de Garde The Purple Kriek (Batch 7)
5.8% ABV
de Garde's The Purple is a spontaneous wild ale aged in oak barrels with black and red raspberries plus Montmorency and Morello cherries. It pours a beautiful purple with a lighter toned version for the foam head. On the nose, expect tart cherry, jammy black and red raspberry, plum, black currant, mild funk, and floral yeast with an oak and red vinous backing. Taste follow suit, more tart and slightly acidic in delivery than the nose foretold, plus more black currant and less funk.
De Garde Ivy
6% ABV
Ivy is a wild ale made with 100 percent Oregon grown pale malted barley. In the kettle, it sees both 3- to 4-year-aged whole leaf Oregon hops, as well as Oregon pellet hops from the most recent harvest. It is the simplest of de Garde's recipes, yet one of the most complex in expression. One malt, one hop, Tillamook water, and time. Ivy spends two years in neutral wine puncheons. Puncheons are more suitable for wines that are fruit driven. These wines usually do not require a high oak extraction but rather elegance, finesse, balance, and a soft integration of toasting and oak tannins into the wine. De Garde selects from these barrels a blend that is funky, but not too funky; tart, but not too sour; complex, but still hedonistic. Altogether, Ivy is well balanced, flavorful, and complex — dryer, airy, crisp for style, and slightly vinous.
De Garde Vin Lee
8.1% ABV
Vin Lee is a spontaneous red ale with Syrah grapes aged in oak barrels for four years for a caramel, grape, funk, lemon, oak, and tannins nose, followed by wine grapes up front with some pleasant bitter barrel, lemon, oak, tannins, and plum with a lingering tartness.
LINK: Peaks & Pints cooler inventory
---