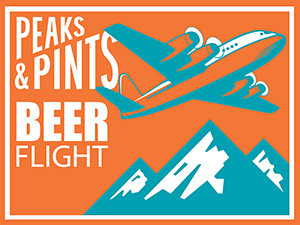 In 2000, Yakima Chief Ranches brought Simcoe into the world as a proprietary hop varietal with strong bitter and aromatic qualities. Although not used much as a bittering hop, many craft brewers favor Simcoe for its unique aroma profile composed of piney, woody, and grapefruit citrus notes mixed with slightly dank and spicy notes of onion and garlic. When fresh Simcoe hops are introduced, the tropical fruit, citrus, and pine pop even more. Let's get to poppin'. Today's Peaks & Pints to-go beer flight features beer brewed with fresh Simcoe. It's a delicious flight we call Peaks and Pints Pilot Program: Fresh Simcoe On the Fly.
Peaks and Pints Pilot Program: Fresh Simcoe On the Fly
7 Seas Yakima Valley Fresh Hop IPA
6.2 % ABV
7 Seas Brewing's Yakima Valley Fresh Hop IPA expresses a blend of hop character that is both bold and nuanced. Hopped with Centennial and Simcoe, expect notes of citrus, floral and dankness over a full malt body.
Bale Breaker Home Grown Fresh Hop IPA
6.5% ABV, 55 IBU
Eighty-seven years after B.T. and Leota Loftus founded Bale Breaker Brewing's family's hop farm in 1932, they harvested something new: their first-ever barley crop. Now in their second season as barley farmers, they are proud to share with you the Bale Breaker Homegrown Beer series featuring 100 percent homegrown hops and 100 percent homegrown barley. Release No. 4 in the series is a fresh hop IPA. Made with freshly harvested, homegrown Simcoe wet hops transported from farm to fermenter in under five minutes, this beer features intense aromas of hoppy peach cobbler.
Stoup Fresh Hop Fiend — Simcoe
6.7% ABV, 66 IBU
Hop harvest comes only once a year and if you're lucky enough to live close to one of the major hop-growing regions of the world (and we are), you can pick up freshly harvested hops from Yakima, bring them home and brew the same day. And that's just what Stoup Brewing did. Packed with 300 pounds of Simcoe fresh hops imparting citrus, stone fruit and pine aroma, this IPA is fresh.
Everybody's Head Stash Fresh Hop IPA
6.6% ABV, 69 IBU
This year marks the 11th consecutive year that Everybody's Brewing has worked with Loza farms to source their fresh hops. Loza is the only known Mexican-American owned commercial hop farm in the U.S. Everybody's raced fresh Simcoe from Loza back to the waiting kettle in White Salmon. Because they canned Head Stash, Everybody's added the Simcoe to their whirlpool to provide plenty of juicy flavor while guaranteeing the quality of the beer. Inhale deeply to experience the bold, dank aroma of this year's crop, followed by pine and citrus ­flavors of orange and grapefruit mingle.
Double Mountain Killer Green
7.3% ABV, 96 IBU
Double Mountain Brewery was established in 2007 in the heart of downtown Hood River, Oregon. Co-founder Matt Swihart opened the brewery with a clear mission: make great beer for craft beer fans. Their unique location lends to not only using pure and clean glacial water for their beers, but they also take advantage of regionally grown hops. Killer Green fresh hop IPA is brewed with Centennial and Simcoe hops straight from Sodbuster Farms in the Willamette Valley. Quick from bine to the boil for initial bright evergreen, red fruit and blood orange flavors that finishes will all the juicy pine and slight herb.
---