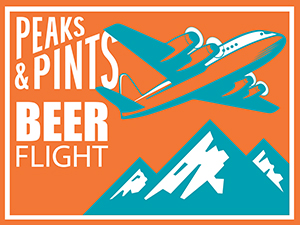 For the sixth consecutive September, Peaks and Pints is throwing a month-long autumn beer party marrying up two popular seasonal beers — fresh hops and Oktoberfest. Launching a week later than previous years due to late fresh hops, Peaks & Pints will tap fresh hop and Oktoberfest beers daily through Sunday, Oct, 9. Expect, at least, two draft bright, hop-hazy fresh-hop beers AND two draft clean, hearty Oktoberfest-style lagers. This year, we're calling our annual celebration, "Peaks and Pints Fresh Hoptoberfest For Days," as we're including other regional fresh hop and Oktoberfest celebration in a monthlong calendar. We're kicking off Fresh Hoptoberfest with a to-go flight of fresh hop and Oktoberfest beers — a flight we're calling Peaks and Pints Pilot Program: Fresh Oktoberfest Beer Flight.
Peaks and Pints Pilot Program: Fresh Oktoberfest Beer Flight
Little Beast Green Keeper
5.2% ABV
Little Beast Brewing's Green Keeper pale ale is brewed with hundreds of pounds of Crosby Hops Centennial for slightly grassy, hoppy, and clean flavors.
Ferment Fresh Hop Centennial
6% ABV
Ferment Brewing Brewmaster Dan Peterson rushed to Coleman Agriculture to grab fresh Centennial hops for this year's Fresh Hop Centennial Pale Ale. Hop cones, cut from the trellises, were immediately collected by bleary-eyed Peterson on a pre-dawn mission. Once back at the brewery, fresh hop cones were crammed into a fermenter with freshly brewed American pale ale to extract the magic that is the fresh hop brew.
Ex Novo Eliot IPA Fresh Hop Centennial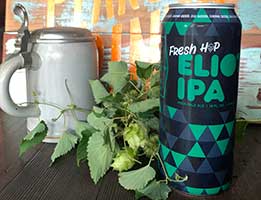 6.6% ABV
One of the first beers Ex Novo Brewing brewer Jason Barbee made was Eliot IPA, named after the brewery's Portland neighborhood. Eliot is a light IPA focused heavily on well-rounded hop flavor and aroma from Centennial, Simcoe, Citra, and Mosaic in the dry hop. For the fresh hop version, Centennial receives the focus adding loads of pine in the nose and on the palate with some grassy notes.
Wayfinder Freiheit
5.7% ABV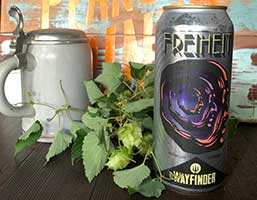 Freiheit! means "freedom" in German and is a reference to Münchner Freiheit, the area of Münich where the Allies freed the German people of Nazi rule. It's also an '80s New Wave band that Wayfinder Beer digs. Freiheit! is a golden, smooth, malty Oktoberfest Wiesn-style lager. This incredibly sessionable beer is very much alike a strong export helles than a Maerzenbier. It has an excellent body with a strong malt backbone and a bitter, dry bite. Light and easy, this one is perfect for the sandwich, as its flavor doesn't bowl over the special's flavors. The slight bitterness adds an extra dimension of flavor to the spicy/sweet bite.
Bayern Oktoberfest
6% ABV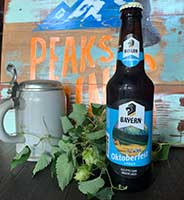 Bayern Brewing's owner, Jurgen Knoller, came to Missoula, Montana, from southwestern Germany in 1987 and he still brews his Oktoberfest according to the standards of the Brewers' Guild of Munich, which was established in 1815 when they brewed this Bavarian Dark Märzen for the first time to celebrate the royal wedding of King Ludwig I and Princess Maria Theresia. This lager is brewed with Pilsener, Munich and German Dunkel malt. The hops come straight from the Hallertau region in northern Bavaria and the finishing hops are Saaz from the Czech Republic. It's a classic Bavarian dark Märzen — not too sweet yet malty with a nice hop flavor.
LINK: Peaks & Pints cooler inventory
---