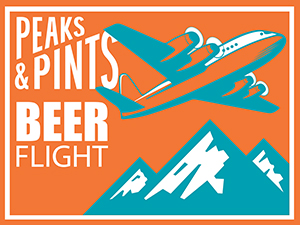 Now in its fourth year, this year's Peaks and Pints bracketed beer competition kicked off April 3, pitting West Coast flagship beers against one another in frothy head-to-head matchups voted online by craft beer enthusiasts. Though the Tournament of Beer: West Coast Flagships ultimately crowns a champion a la NCAA March Madness style, the real purpose is to champion the beers that put West Coast breweries on the map, which might have become forgotten in a sea of hazy milkshake IPAs and pastry stouts. Cascade hops by Cascade hops, the West Coast drank its way through the first two rounds followed by the Sweet 16, the Great Eight, the Final Four and today's Championship Game (vote!) between Pelican Brewing Kiwanda Cream and Chuckanut Brewery Pilsner with online voting ending at 8 p.m. In conjunction with today's Championship Game, Peaks and Pints offers a to-go beer flight of craft beer from Pelican and Chucknut. Drop by Peaks & Pints today, grab this four beer flight of growlers, bottles and cans, which includes the two beers battling for the crown, in a to-go flight we call Peaks and Pints Pilot Program: Flagship Champs On The Fly.
Peaks and Pints Pilot Program: Flagship Champs On The Fly
Pelican Kiwanda Cream Ale
5.4% ABV, 25 IBU
If you love Pelican Brewing Company's flagship beer Kiwanda Cream Ale, you're not alone — it's one of Pelican's most award-winning brews with 21 honors, including 13 gold medals and a spot in today's Tournament of Beer: West Coast Flagships Championship Game. Inspired by one of America's traditional indigenous 19th century beer styles, Kiwanda Cream Ale is a nod to founding brewmaster Darron Welch's love of history and reputation for brewing beers as they are intended to be. Pelican is the first known craft brewer to honor the early American beer. Made of all local, hand-sourced ingredients — Two-row malt, flaked barley, Mt. Hood hops, CaraPils malt, pure local water and pure ale yeast — Kiwanda Cream Ale is pale gold with a fruity, floral hop aroma, golden color, refreshing body and clean, snappy finish.
Pelican Captain Of The Coast
9.5% ABV, 25 IBU
Captain Of The Coast is back on watch after time spent in Dry Fly Wheat Whiskey Barrels. Pelican's award-winning MacPelican's Wee Heavy emerged recognizably Wee Heavy, but with added notes of chocolate covered cherries, toasted oak, spice and vanilla in the aroma. The first sip produces flavors reminiscent of malted milk balls and crème brûlée with a silky smooth mouthfeel. Sail with the Captain and you'll find dried apricots, sherry-like flavors and dark marmalade.
Chuckanut New World German Ale
5.5% ABV, 40 IBU
In the early 1980s, chemical engineer and homebrewer Will Kemper paid a visit to the brewmaster of the now-defunct Rainier Brewery in Seattle where he was told he couldn't open a brewery because he wasn't born into it. Good one. In 1984, Kemper, his wife, Mari, and Andy Thomas opened Thomas Kemper Brewery in Poulsbo, Washington. In 1992, Thomas Kemper merged with Hart Brewing, which went on to be Pyramid Breweries. The Kempers saw the ugly side of the business and became consultants with East Coast and international breweries. After a bunch of traveling, they moved back to Bellingham where they opened Chuckanut Brewery in 2008 — a convergence of technical and engineering concepts developed from more than two decades of professional involvement with craft brewing both home and abroad. They hired Josh Pfriem as their head brewer, who went on to open pFriem Family Brewers in Hood River, Oregon. Chuckanut New World German Ale, a pale ale, is made unique by the use of new varietal German hops. Late additions of Hallertau Blanc, Ariana, and Hull Melon hops give this ale notes of white grape, melon and berries. New World German Ale has just the right amount of hop bitterness not to over power the senses but to end your taste buds on a slight bitter note. 
Chuckanut Pilsner
5% ABV, 36 IBU
Chuckanut Pilsner, the flagship beer winner of the 2000-2019 Region, is facing off with Pelican Brewing's Kiwanda Cream Ale today in the Tournament of Beer: West Coast Flagships Championship game. For Chuckanut Pilsner, the road to today's championship game was filled with wins over Ninkasi's Total Domination, Georgetown's Manny's Pale Ale, Fort George's Vortex IPA, Everybody's Country Boy IPA, and Kulshan's Bastard Kat IPA. Following their passion for German pilsners, the Kempers brewed their own golden, vivid, crisp version with Pilsner malt and secret noble hops. They transferred their multiple award-winning pilsner production from their Bellingham brewery to their 40-barrel production facility in Mount Vernon.
---