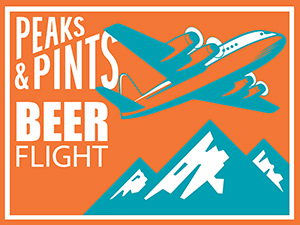 Growing up surrounded by vineyards and winemakers, Adam Firestone (of Firestone Vineyard) always had an interest in combining the family business with beer making. He found the perfect business partner in his brother-in-law David Walker and the two founded Firestone Walker Brewing Company in 1996. In addition to winning gobs of medals for individual brews, this notable brewery from Paso Robles California often takes home the major hardware at competitions such as the Great American Beer Festival and World Beer Cup — titles such as "Brewery of the Year" or "Brewer of the Year." Firestone Walker's main brewery in Paso Robles produces a diverse portfolio ranging from iconic pale ales to vintage barrel-aged beers. The Barrelworks facility in Buellton makes eccentric wild ales, while the Propagator pilot brewhouse in Venice specializes in R&D beers and limited local offerings. Today, Peaks & Pints presents to-go flight of three Firestone Walker vintage barrel-aged beers brewed in Paso Robles in a flight we like to call, Peaks and Pints Pilot Program: Firestone Walker Vintage Flight.
Peaks and Pints Pilot Program: Firestone Walker Vintage Flight
Firestone Walker Gin Rickey 2020
11.3% ABV
Gin Rickey is a blonde barleywine matured in gin barrels for 18 months with the additions of freshly zested lime peel, mace, coriander and juniper berries. Highly carbonated to mimic the original Gin Rickey cocktail, hugely popular during Prohibition, this beer offers big botanical and floral notes, plus gin, orange and lemon, peel, cranberry, raisin, nutty, whiskey, and light bitterness on the finish.
Firestone Walker Mezcal-Limón 2021
13.5% ABV
The seeds of Mezca-limón were planted many years ago, when a friend from Mexico introduced Firestone Walker Barrel Program Manager Eric Ponce to the wonders of the Mezcalita cocktail. Ponce chased down a bunch of rare barrels, got crazy with the ingredients and pulled out all the stops to mimic the experience of drinking a Mezcalita. Echoing the traditional Mezcalita recipe, this strong ale's specialty base beer is brewed with agave, chile peppers, sea salt, and aged in mezcal and orange bitters barrels, all finished with a touch of lime zest.
Firestone Walker Parabola Orange Bitters Barrel 2022
13% ABV
Parabola is a Russian imperial oatmeal stout is aged for a full year in Heaven Hill barrels, developing flavors of rich, chewy roasted malts, charred oak, and bourbon-y vanilla. For its Orange Bitters Barrel version, it's aged in orange bitters barrels for dark chocolate and oranges similar to those fancy chocolate variety candy boxes. On the tongue, expect black coffee, dark chocolate, candy orange, roasted malts, bitterness finish, and hidden alcohol.
LINK: Peaks & Pints cooler inventory
---