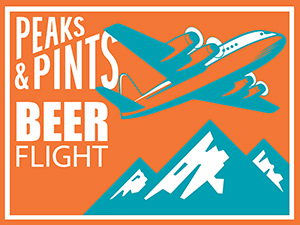 Geoffrey Barker and Andrew Pogue met as members of the North Seattle Home Brew Club. They both love saisons and sours. They traveled to mixed-fermentation guru Jester King in Austin, Texas, where they added to their friendship circle. The duo spent years looking for a place to launch their brewery. Eventually they landed in a former home of an orchid retailer, a boxy, lightly industrial building at 936 Northwest 49th Street, in the thick of Ballard's brewery district. With the help of Jester King, Barker and Pogue opened Fair Isle Brewing in January 2020 focusing on mixed-culture and wild beers, such as saisons, grisettes, bier de garde, farmhouse and American-style sour beers. Today, Peaks & Pints presents a to-go flight of Fair Isle beers — a flight we're calling Peaks and Pints Pilot Program: Fair Isle Flight.
Peaks and Pints Pilot Program: Fair Isle Flight
Fair Isle Fay Fuller
5.2% ABV
Not named after China Davis band's frontman Ben Fuller's wife, Fay, but rather Fair Isle's Fay Fuller gives a nod to the first known woman to climb Mount Rainier. Evelyn Fay Fuller (Oct. 10, 1869-May 27, 1958) was an American journalist, mountaineer, and schoolteacher. In 1890 she became the first woman to reach the summit of Mount Rainier. Fair Isle's Fay is a dry saison with notes of grapefruit pith, mango, and herbs.
Fair Isle Cordelia
6.5% ABV
Cordelia is a saison brewed with Elwha River spelt and Monica oat pale malt from LINC Malt comprising the base beer, plus boysenberries. It's rounded out by three months of conditioning in their oak foeder for vivid notes of jammy boysenberry pie, with a dry finish to keep it refreshing and light on the palate.
Fair Isle Ana
7.4% ABV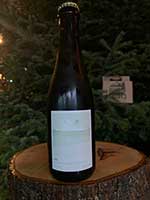 "Kiwi fruit, aka kiwi berries or kiwi grapes, are perhaps the Pacific Northwest's best kept secret," states Fair Isle Brewing regarding their tropical saison "Ana" brewed with Ananasnaya kiwi fruit from Burnt Ridge Nursery & Orchards in Onalaska, Washington.  "The fruit is reminiscent of a Kiwi but is the size of a large grape and has a smooth skin that is edible and packed with tropical flavors, even sweeter than a traditional Fuzzy Kiwi. The fruit is grown on Kiwi vines and thrives in the Pacific Northwest climate, yet it's not widely available." The subtle mineral aroma of Ana is closely followed by notes of Pippin green apples, white grape skins, melon rind and bursts with tropical notes and bright acidity. Dry like Fair Isle's other saisons, but with a perceived sweetness coming from the kiwi, Ana stands apart.
LINK: Peaks & Pints cooler inventory
---