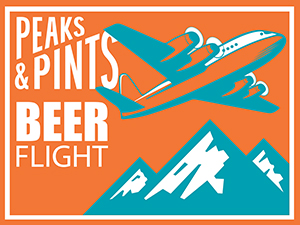 With 23 breweries and cideries listed on the Eugene Ale Trail tour, Eugene, Oregon makes for a fun weekend craft experience. Like regional winemakers, Eugene brewers and cidermakers benefit from the Willamette Valley's rich agricultural basin. The Pacific Northwest is a major producer of barley for malt, and Oregon's Willamette Valley is one of the top domestic producers of hops. With growing conditions similar to Germany, the delicate hop flower has flourished there since the 1870s. Another esteemed ingredient praised by Eugene brewers is the clear, soft water of the McKenzie River. Mountain springs and melting snow from the Cascades feed the McKenzie River, recognized as the best in the nation. In celebration of the last day of Eugene Beer Week, Peaks and Pints goes over the hills and into the (Willamette) Valley for a to-go beer flight we call Peaks and Pints Pilot Program: Eugene On the Fly.
Peaks and Pints Pilot Program: Eugene On the Fly
WildCraft Pinot Barrel Aged Cherry Cider
7.2% ABV
Eugene's WildCraft Cider works grabbed "Best Year Round Cider" at the 2017 World Cider Champions for their Pinot Barrel Aged Cherry Cider. The award-winning cider is made from pure freeze-pressed cherry wine produced from a variety of Lane County cherries, aged five months in French oak Pinot Noir barrels. This wine is then blended with a naturally fermented, wild harvested cider for a full-bodied, high tannin complex cider. It hits the nose with cherry preserve, Pinot Noir, floral yeast, rose hip and rose petal. It's slightly chewy with a crisp, effervescent, dry light body and a complex, medium-long taro custard, cherry skin, yeasty coffee cake, and herbal lozenge finish.
Alesong Señor Rhino
11% ABV
Down south over yonder hills, just outside Eugene, Oregon, Alesong Brewing & Blending focuses almost exclusively on small batches of oak-aged and Belgian-inspired brews since it first began producing beer in early 2016. Alesong has stood out among the crowd with its blending and barrel-aging techniques. The brewery's imperial milk stout is aged for 6 months in freshly dumped Heaven Hill Bourbon barrels, layering on flavors of vanilla and a hint of cinnamon and a slight warmth from the alcohol. Then, Alesong adds ancho chiles from their local Latino market, as well as Cassia cinnamon and Tahitian vanilla beans from Mountain Rose herbs, and Vietnamese cocoa nibs from Chocolate Alchemy in Eugene. Expect cinnamon, vanilla and cocoa on the nose, followed by some heat and rich chocolate flavors intertwined with hints of cinnamon and vanilla.
Oakshire Overcast Espresso Stout
5.8% ABV, 27 IBU
When Jeff and Chris Althouse founded Oakshire Brewing Co. in 2006 they were the only employees, brewing Original Amber on a four-barrel system under the moniker Willamette Brewery. In 2008, Willamette Brewery became Oakshire Brewing. Today, Dan Russo is the lead brewer managing Oakshire's collaborative production team of seven and overseeing the Pilot, Vintage and Core Seasonal programs. Their Overcast Espresso Stout is an oatmeal stout blended with cold brewed coffee, offering a full palate of roasted malts, chocolate and espresso.
Ninkasi Prismatic Juicy IPA
5.9% ABV, 36 IBU
June 15, 2006, Ninkasi Brewing Company set out with a single mission: Perpetuate Better Living. Operating under this core purpose, the brewery has grown from a two-man team — Jamie Floyd and Nikos Ridge — to become the 35th largest craft brewery in the United States, operating entirely from its facilities in Eugene, Oregon and employing more than 100 employees. Ninkasi brews their Prismatic Juicy IPA with Mosaic cryo and dry hops it with Simcoe cryo, as well as El Dorado, Centennial, Simcoe, and Citra hops resulting in notes of pineapple, passionfruit and guava.
---