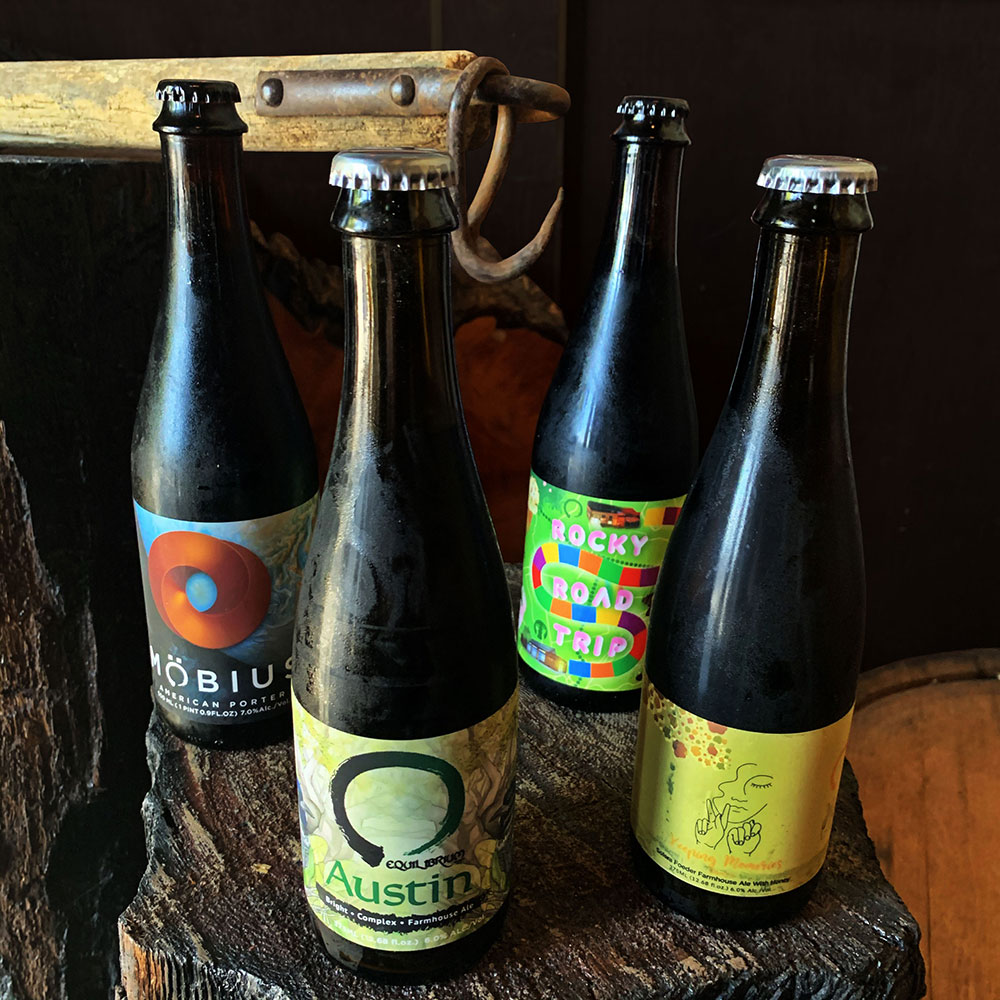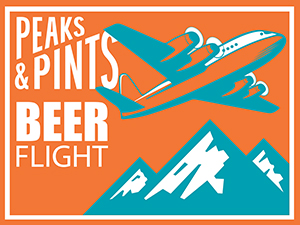 In 2016, MIT graduates and friends Peter Oates and Ricardo Petroni opened Equilibrium Brewery in Middletown, New York. The two professional scientists became obsessed with New England hazy IPAs burning a path to Hill Farmstead Brewery and The Alchemist. Finally purchasing a homebrewing kit, Oats and Petroni strived to create scientifically balanced beer, which they did before brewing their first double IPA, named EQM, in 2015. It didn't hurt they were trained in water chemistry. Four years later, lines 300 deep stood before their door waiting for their latest release. Since then, they opened a second site in Middletown to brew more cult-classic hazy beers, as well as farmhouse and dark beers. Today, Peaks & Pints presents a to-go flight of Equilibrium's bottled farmhouse and dark beers — a flight we call Peaks and Pints Pilot Program: Equilibrium On The Fly.
Peaks and Pints Pilot Program: Equilibrium On The Fly
Equilibrium Austin
6% ABV
After years of experimentation, Equilibrium released their farmhouse ale base Austin that is dry, slightly tart, full of flavor, and super drinkable. Austin has a similar elegant acidity of their dry hopped TABA farmhouse IPAs, similar final gravity, but uses completely different microorganisms for fermentation, different hops, and hop process. Austin is pale, tart, delicate, and complex with a bit of pleasant funk. This beer is unfiltered, unpasteurized, naturally carbonated and will continue to evolve over time if properly cellared.
Equilibrium Keeping Memories (Blend 2)
7% ABV
Equilibrium's Batch 2 of Keeping Memories farmhouse ale is pulled from their Keeping Memories foeder and then bottle conditioned with organic honey. Pouring a bright straw yellow, expect bright lemon, spring flowers, ginger, lavender bushes, honeysuckle, pleasant funk, and a soft touch of vanilla on the nose. The taste is complex; and features notes of tart lemon, grassy fields, and a layered and perfectly balanced honey backbone to complement the bright notes.
Equilibrium Mobius
7% ABV
Equlibrium owners Peter Oates and Ricardo Petroni went through great lengths to refine the brewing process to yield a porter with rich and creamy flavor and mouthfeel to show case the decadent flavors yet leave the harsh taste that dark grains can often leave behind. Equilibrium Mobius has an incredible mouthfeel and subtle notes of coffee and chocolate, yet not cloyingly sweet to aid in its drinkability.
Equilibrium Rocky Road Trip
11% ABV
Conditioned on cacao, vanilla beans, marshmallow, almonds, and walnuts, Equilibrium's Rocky Road Trip pours pitch black with a creamy tan head releasing notes of Rocky Road ice cream. Flavors of a smooth chocolate ice cream shake and dollops of chewy marshmallow swirls contrast with an almond nuttiness and a touch of walnut to create a balanced stout that pays homage to one of their favorite ice cream flavors. Decadent, creamy, and playful, this imperial stout will take to you back to sweet childhood memories.
LINK: Peaks & Pints cooler inventory
---