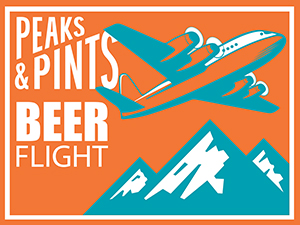 Van Havig, former brewmaster at Rock Bottom Brewery in Portland, and Ben Love, previously a brewer at Pelican Brewery and head brewer at Hopworks Urban Brewery, added to Portland's Beervana opening Gigantic Brewing May 9, 2012. The two brewers figured out how to have two head brewers then proceeded to make delicious beer. Their taproom had a college clubhouse vibe. They brewed amazing one-offs. Their label art, signed by the artists, could hang in museums. And, they would brew with the coolest rock stars. Today, Peaks and Pints offers a to-go flight of Gigantic beers that we call Peaks and Pints Pilot Program: Gigantic On The Fly.
Peaks and Pints Pilot Program: Gigantic On The Fly
Gigantic We Don't Need No Stinking Hops
7.2% ABV
A collaboration with Boneyard Beer, Gigantic's We Don't Need No Stinking Hops sports all the juiciness without all the hops. Through the use of a prodigious amount of tangerine puree, citrus peels and Kveik yeast, Gigantic and Boneyard brewed a properly juicy IPA with just a dash of Citra hops. The label artwork for We Don't Need No Stinking Hops comes from Ben Walker-Storey featuring images of Van Havig, Ben Love and Boneyard owner Tony Lawrence in skull form.
Gigantic Fuzz Wumper Hazy IPA
7.5% ABV
Named after the legendary Pacific Northwest Fuzz Wumper — a hairy, one eyed, jovial beast which survives solely on this region's infamous hoppy beers — this hazy IPA is brewed with Strata and Citra hops to satisfy the friendly beast's need for flavors of mandarin orange, passionfruit and grapefruit that only hops can provide.  The Oregon grown Strata hop is a beautiful thing with its intense tropical fruit and grapefruit aroma and flavor. Paired with Citra and Crystal hops, it unleashes a multitude of citrus and tropical fruit aromas and flavors.
Gigantic Cat Stash Fever Dank IPA
7.5% ABV
The Cat Ate My Stash & Pissed on the Xmas Tree has been a big hit for Gigantic every fall. People not only love the name and label, but they love that classic West Coast IPA flavor. So in addition to the release of Cat Stash in October, Gigantic has released Cat Stash Fever this month. Cat Stash Fever has the same dankest, sticky, drippy, and piney hops but with a lighter malt body.
LINK: Peaks & Pints cooler inventory
---