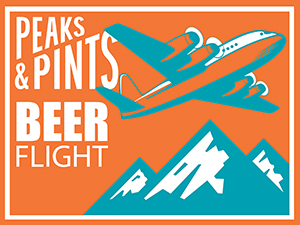 There are many metrics by which we can measure the brewing explosion that has taken place in the Eastern Washington over the past half-decade. We can talk about the number of new breweries, or the emergence of growler stations and beer bars. If we want to get really technical, we can tally the amount of barrels brewed and even track how many of those are traveling to other markets, serving as liquid evangelists for a craft beer scene that's turning heads in the Northwest. But perhaps an easier, more visible metric would be to taste the delicious new IPAs coming out of the other side of the Cascades. We present Peaks and Pints Pilot Program: Eastern Washington IPAs.
Peaks and Pints Pilot Program: Eastern Washington IPAs
Varietal Wolf Factory V2
5.5% ABV
Chris Baum, John Cope, Chad Roberts, David Paulson, and Karl Vanevenhoven opened Varietal Beer Co. in April 2018 in the Port of Sunnyside between Yakima and the Tri-Cities in Eastern Washington. Head brewer Baum launched this new series of hazy IPAs, Wolf Factory, which are lower in ABV than their usual fare. The first can in the series is v2, with thick haze from Mecca Grade estate barley malts, LINC Malt wheat malt and spelt for body. This beer is heavily hopped with Golding Farm's Idaho Gem in the whirlpool and dry hop, as well and Comet and Palisade.
Old Schoolhouse Betty Mopper
6.9% ABV, 35 IBU
Casey and Laura Ruud purchased the floundering Winthrop brewery in 2008, changed the name to Old Schoolhouse Brewery, cleaned it up, and quickly turned it into an award-winning gem of a brewpub. Life happens, and the Ruud's sold the brewery to three gentlemen who grew up in New Hampshire together, brothers Nathan and Jacob Young and Troy Anderson. All three enjoy the outdoors, which is almost mandatory since the riverside brewery and gastropub is in Winthrop, which sits east of Mazama and north of Twisp in Okanogan County. Brewed with Mosaic, Azacca Cryo, Loral Cryo and Idaho 7 hops, Betty Mopper is a light bodied hazy IPA with notes of mango, orange, and other tropical fruit.
Old Schoolhouse Sky Breaker IPA
7.2% ABV
The unfiltered West Coast style IPA "is a nod to the innovators, adventurers, and ceiling smashers," according to Old Schoolhouse hype. This terrepine rocket is loaded with Citra, Mosaic, Loral, Chinook, and Simcoe for complex citrus, fruity, and floral aroma and flavor.
Single Hill Peacekeeper
7.1% ABV
In August 2016, Ty Paxton and Zach Turner opened Single Hill Brewing in an old JC Penney Tire Center in downtown Yakima. The two first met at a cider pressing party that a mutual friend was hosting in 2013. Three years later, over pints at Bale Breaking Brewing, the two hatch the idea for a community-based brewery in a town dear to their hearts. Their bold, punchy and fruity hazy Peacekeeper IPA delivers much more than a hop fix, it delivers a sense of positive change that you can contribute to. Proceeds from this IPA support the Peacekeeper Society, a tribal-led nonprofit organization driving positive social change and providing emergency relief to all people on the Yakama Indian Reservation. Peacekeeper Society provides mentoring and economic opportunities for Native youth as well as grief recovery and wellness programming for community members.
---