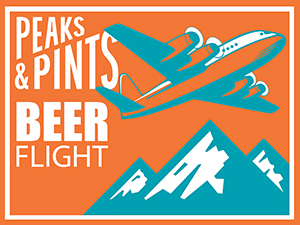 Winter beer is a slippery category that used to comprise slightly boozy ales brewed with spices and dark fruits but has long since metastasized to include not only those traditional "winter warmers," but also just about any damn thing a brewery's marketing department feels like hanging a snowflake on. Slapping a reindeer label on a coffee stout does not make it a winter beer. Winter beers are much darker in color, ranging from a deep amber to a rich black, with distinctively festival flavorings such as notes of dark fruit, roasted barley, chocolate, coffee, and bitter hops. The emphasis is on strong flavors and a full mouthfeel, rather than being a thirst-quencher. A bunch of winter warmers arrived in the Peaks & Pints cooler today. Let's take a peek with a to-go flight, Peaks and Pints Pilot Program: Early Winter Beer Flight.
Peaks and Pints Pilot Program: Early Winter Beer Flight
Ninkasi Sleigh'r
7.2% ABV
Brewed with German Alt yeast and fermented at colder lagering temperatures, Ninkasi Brewing's Sleigh'r has a dryer finish than traditional ales. First released in 2009, Sleigh'r rides roasted barley and Chocolate malts with Nugget hops balancing and a dry finish.
Deschutes 2022 Jubelale
6.7 ABV

Deschutes Brewery's former head brewer John Harris originally brewed Jubelale for Christmas and modeled it after an English strong ale or winter warmer. He brewed that first batch on October 26, 1988, and according to the brewing log, it contained pale malt, caramel malt, chocolate malt, and dextrin malt, and the hops used were Galena, Cascade, "Wills" (assuming Willamette), and Tettnanger in the hop back. Starting gravity was 1.065, and the resulting alcohol was 6.25 percent by volume. The Bend, Oregon brewery has been producing the robust and malty but approachable Jubelale winter festive ale every year since. Its spicy-malt flavor, cocoa, dried fruit, and toffee notes ignite cozy warmth on the taste buds — perfect for any number of winter pastimes, like making toys.
Kulshan Kitten Mittens Winter Ale
7.4% ABV
Kulshan Brewing adds four different malts — 2-row, Chocolate, roasted barley, and Munich — to Kitten Mittens Winter Ale giving it the rich, medium-bodied winter warmer we adore with a nose of milk chocolate and a touch of brown malt. The body strikes a nice mix of easy malty notes and medium sweet chocolate balanced by earthy hop notes, thanks to the Apollo, Willamette and Fuggle hops. Expect a touch of chocolate liquor on the finish.
Double Mountain Fa La La La La
7.6% ABV
Winter warmers are top-fermenting ales that offer plenty of malty and sweet flavors alongside a balanced hop character. Many of these tasty brews are blended with spices, which give the style its trademark "warmth." Double Mountain Brewery's winter warmer is a big, malty hop bomb. Brewer Matt Coughlin loads the brewery's holiday brew up with Gambrinus Organic Pilsner, Munich malt, imported Crystal malts and enough Centennials to fill Santa's toy bag.
Boundary Bay Cabin Fever
8.5% ABV
Brewed with Zeus, Simcoe, Willamette and Celeia hops and five malts — including Chocolate malt and oats — Boundary Bay Brewing's winter seasonal Cabin Fever is rich, malty, and deceptively strong. With an extended conditioning period, this winter warmer has a smooth mouthfeel. The aroma has a rich, nutty maltiness with some vanilla, raisins, caramel, and bread. The flavor leans sweet nutty initially and then opens for more of a balance with spicy hops that are not strong and end up creating a lovely lingering bready aftertaste. Nice balance.
Maritime Pacific Jolly Roger Christmas Ale
9.2% ABV
A Christmas beer with a pirate skull and crossbones donning the bottle? This one is for you, Jack Skellington! George and Jane Hancock founded the ma-and-pa Maritime Pacific Brewing Company in an old transmission shop in 1990 in Seattle's Ballard neighborhood. In 1997 they opened the Jolly Roger Taproom named, as they say, "in honor of our most popular holiday brew": Jolly Roger Christmas Ale. A beer fridge staple, Jolly Roger English Strong Ale combines rich malt character with a blend of fresh Northwest Chinook and Cascade hops.
LINK: Peaks & Pints cooler inventory
---