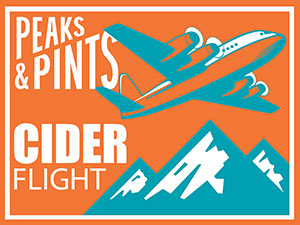 Named for the dragon that guards the apples of immortality in the Garden of Hesperides, Dragon's Head Cider was founded in 2010 on Vashon Island. Ignoring their last name, owners Laura and Wes Cherry planted a beautiful orchard of apples and pears with production held on site. The Cherry's don't believe in cold storing their apples; they press during harvest season at its peak ripeness. Once pressed, the fruit ferments in winter, is blended in spring, and ready to be bottled by early summer. Today, Peaks and Pints presents a to-go flight of Dragon's Head Cider that we call Peaks and Pints Monday Cider Flight: Dragon's Head.
Peaks and Pints Monday Cider Flight: Dragon's Head
Dragon's Head Dabinett Reserve
8% ABV
Wes and Laura Cherry take their Dragon's Head Cider products from apple to bottle, blending fruit from their 2,200-tree orchard on Vashon Island with apples harvested by other small Washington family orchards. Their Dabinett Reserve is a full-bodied cider made predominantly with Dabinett apples, a very small percentage of other English cider apples, and a hint of brandy. Expect a wild fermented cider with brandy and confectionary notes in the aroma, followed by flavors of toasted sugar, dried apricot, orange peel, and green tea.
Dragon's Head Kingston Black
7.9% ABV
Dragon's Head's Kingston Black takes its name from the town of Kingston near Taunton in Somerset, England — the heart of cider in the UK. The name comes from the apples' dark red or purplish skin, though despite the name, the fruit does not have a black hue. Kingston Black apples are often considered the epitome of cider apples. They produce a cider rich in dried apple, clementine, and hint of honey, slightly bitter, and medium bodied. Dragon's Head medal-winning Kingston Black hits the nose with dried apricot, clover, and resinous cedar. The apricot carries over to the taste with clementine, hints of honey, and slight bitterness.
LINK: Peaks and Pints cooler inventory
---