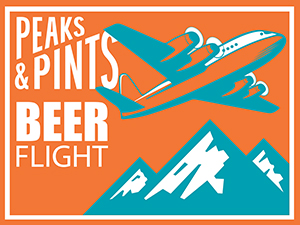 It will be 61 degrees and raining in Sydney, Australia, today. Sounds quite lovely. Let's pretend we're Down Under today in the only way possible — drinking beers made with Southern Hemisphere hop varieties. American craft breweries began seriously researching these hops in 2016 as many hops varieties grown in the United States are becoming more expensive and more difficult to get as the craft-brewing industry expands and more consumers embrace craft beer. The Southern Hemisphere brings wild, tropical and overwhelming bright, fruity characteristics from such hops as Nelson Sauvin, Galaxy, Ella, Vic Secret, Enigma, Motueka, Moutere, Wai-iti, Nectaron, Rakau, Waimea, Pacific Jade, Wakatu, Kohatu, and many others. Today, Peaks & Pints presents a to-go flight of craft beers brewed with Southern Hemisphere hops — a flight we call Peaks and Pints Pilot Program: Down Under On The Fly.
Peaks and Pints Pilot Program: Down Under On The Fly
Ferment Golden Bay IPA
6.5% ABV, can

Former pFriem head brewer Dan Peterson and culinary expert wife, Jennifer Peterson, opened Ferment Brewing Co. a few blocks east of pFriem in Hood River in August 2018. Peterson graduated from the University of Vermont with a Bachelor's degree in Microbiology and Molecular Genetics. He ran the QC lab and bottle conditioning program at Brooklyn Brewery from 2003-2010 before moving to Oregon and becoming a brewer at Full Sail until 2013 when he joined pFriem. His Golden Bay IPA offers tropical and grapefruit flavors and aromas from Motueka and Moutere New Zealand hops.
7 Seas Southern Hemisphere Imperial Hazy IPA
7.8% ABV, 45 IBU, draft

Brewed exclusively with Down Under hops Kohatu, Wai-iti, and Nelson Sauvin, 7 Seas Brewing's Southern Hemisphere Imperial Hazy IPA delivers extremely lush tropical fruit notes of passionfruit, stone fruit, and lime zest. Kohatu is a new variety with an ideal blend of subtle tropical fruit and pine aromatics. New Zealand's Wai-iti has high oil content with distinctive peach and apricot character. And, of course, New Zealand powerhouse Nelson Sauvin adds ripe tropical fruit and wine-like aromatics.
Crux Cast Out India Pale Ale
7.6% ABV, 60 IBU, can

The OG of Southern Hemisphere hopped beers, Crux Fermentation Project's Cast Out IPA features the Galaxy hop from Australia, a country famously populated by England's cast out convicts. Cast Out IPA employs these hops aggressively from hop back to dry hopping stages. Yet the result is a balanced and bronzy ale, with medium hop bitterness complemented by moderate maltiness, showcasing aromas and flavors reminiscent of passion fruit.
Matchless Hop Nectar
8.2% ABV, can

Vic Secret is an Australian hop known for its bright tropical character of pineapple, pine, and passionfruit. The hop is the star of Matchless Brewing's Hop Nectar double IPA. Sweet sticky hop nectar has fallen from above with notes of pineapple, honeydew, and orange citrus. Vic Secret along with Huell Melon, and Amarillo hops combine for one smooth hazy double IPA on a bed of Pilsner malt and flaked wheat. And it's all tied together with Juice yeast. Not to be confused with the other "nectar" in a can.
American Solera Terpy Enigma
8% ABV, can

Based in Tulsa, Oklahoma, American Solera is a blend of unique beers created by brewer Chase Healey, who is the guy that started Prairie Ales. His double IPA, Terpy Enigma, gets its name from terpenes — basically the essential oils found in hops — and Enigma, a new offering from the Hop Products Australia breeding program. Enigma is a high alpha variety that's said to impart unique characteristics of redcurrants, raspberries, stone fruit, and Pinot Gris to beer. Enigma has gained a reputation for being a "chameleon" in that different aspects of this enigmatic variety are accentuated depending on things such as wort composition, yeast choice, and other hops its paired with. Terpy Enigma is balanced and easy to drink with tangerine and tropical fruit peel spice.
LINK: Peaks & Pints cooler inventory
---