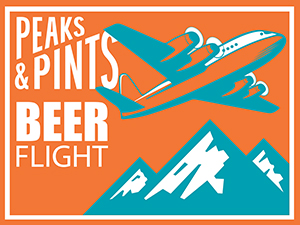 In 1994, Tomas and April Sluiter left their bakery jobs in Grand Rapids, Michigan, and hit the road. They traveled extensively. Then, in the summer of 2000, they discovered Portland, Oregon. Thomas took an assistant brewer job at the Old Market Pub in Southwest Portland. Within two weeks of his hire, the head brewer quit and Tomas was thrown into that role. He dismantled the old, tired brewing system and refurbished a 15-barrel system. In January 2017, seven years after Tomas left Old Market and almost two years after attempting to open his brewery in Portland's Goose Hollow neighborhood, he and April opened Culmination Brewing in Northeast Portland's Bindery Annex building. Tomas, now a certified Master Brewer, built his dream brewery in the 7,000-square-foot space kitted out with gravity-fed tanks. Peaks and Pints has a bunch of new Culmination Brewing craft beers in the cooler, so welcome to our to-go beer flight, Peaks and Pints Pilot Program: Culmination Brewing On The Fly.
Peaks and Pints Pilot Program: Culmination Brewing On The Fly
Culmination Sour Flower
5.5% ABV
Cucumber flavor has a soothing, chill-out quality that makes it a favorite addition to ice water at your neighborhood spa. That same sensation can be employed to great effect in the right beer, such as Culmination's most recent Sour Flower series offering: Strawberry Guava and Lemon Sour Ale. Culmination's stuffed this delightfully tart kettle sour with loads of strawberry, guava, and lemon
Culmination MCS Bourbon
12% ABV
In January of 2020 Culmination brewed their favorite imperial stout and tucked it away in bourbon and rye barrels from Heaven Hill Distillery for the better part of a year. With the passing of time, complex notes such as oak, vanilla, brown sugar, coconut, and tobacco have nestled themselves deep within this strong ale alongside malty notes of rich chocolate and roast.
Culmination MCS Rye
12% ABV
This variant of Culmination's MCS series was aged in rye bourbon barrels for dark and heavy aroma of rye and oak. This medium bodied barrel-aged stout is boozy with dark roasted malt and a very light hop body that balances perfectly.
Culmination MCS Barrel Aged Cocoa
12% ABV
This variant of Culmination's MCS series is a bourbon barrel aged imperial stout brewed with cocoa nibs, coconut, and vanilla.
Culmination Desired Realm
5.9% ABV
This hazy pale is Culmination's newest addition into their 12-ounce 6-pack releases. Brewed with copious amounts of wheat and oats, this slightly lower ABV hazy pale is creamy and full bodied with tons of sweet sticky pineapple, fresh lemon, and subtle notes of pine.
Culmination West Coast Story
6.5% ABV
Culmination's rotating West Coast Story series is a love letter to classic American and West Coast IPAs. This IPA has a rotating hop bill with a more prominent malt profile than our flagship IPA, Phaedrus. This batch was dry hopped with classic Pacific Northwest hops El Dorado, Mosaic, and Centennial. You can expect tons of citrus, floral, and piney notes resting on a smooth and subtle malt backbone.
LINK: Peaks & Pints cooler inventory
---