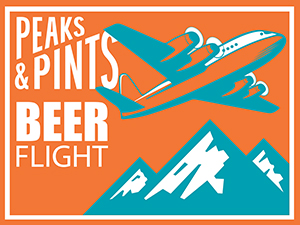 Lumberjack Paul Bunyan worked forests that stretched for a seeming eternity in the late 19th century. He and his lumberjack posse, the Seven Axemen — all 6-feet tall sitting down — distracted themselves from isolation and danger by spinning exaggerated tales and drinking craft beer. Bunyan and his buddies loved craft beer because craft beer has a richer and more distinct taste than watery mass-produced beer. Just like Bunyan's passion for lumberjacking, most craft brewers are passionate about the taste and flavor of their beer. The brewers invest the time and energy required to maintain or improve the quality of the beer instead of concentrating on huge marketing campaigns. In addition, the Seven Axeman would start off a good conversation about the taste and quality of craft beer, which led to other intelligent discussions about the style, origin, ingredients, and other interesting features of the type of beer they were drinking. Today, Peaks & Pints salutes Bunyan and the Seven Axemen with a to-go flight of lumberjack-themed craft beer — a flight we call Peaks and Pints Pilot Program: Lumberjack Beer On the Fly.
Peaks and Pints Pilot Program: Lumberjack Beer On the Fly
Timber Ales I Must Be Dreaming (Blueberry and Peach)
6% ABV
The plaid-wearing outdoors enthusiast Jason Stein would leave his Upper West Side apartment in New York City and travel to Long Island to homebrew barrel-aged imperial stouts and barleywines in his parents' garage. He eventually called his talent Timbers Ales. His I Must Be Dreaming (Blueberry and Peach) is a kettle sour brewed with blueberries, peaches, graham cracker, vanilla beans, and milk sugar.
Lumberbeard Huckleberry Fuzz
6.3% ABV, 22 IBU
Seasoned at SoCal breweries, including The Bruery, Bret Gordon traveled up to Spokane to opened Lumberbeard Brewing, a 20-barrel brewhouse on the east end of downtown, in 2018. His Huckleberry Fuzz is a kettle sour brewed with huckleberry, blueberry, raspberry, vanilla, and lactose. It's fruity and tart with a softness from the vanilla.
Little Beast Wood Chopper
4.5% ABV
Charles Porter left Logsdon Farmhouse Ales to open Little Beast Brewing with his business and life partner, Brenda Crow, a cheesemaker, in April 1017. Porter and crew craft wild, wood-aged, and blended beer naturally with diverse cultures, including Saccharomyces, Brettanomyces, Lactobacillus, and wild flora. By harnessing the "little beasts" that ferment their beer, they capture their untamed beauty and produce farmhouse beers that are diverse in flavor and rare in character. Their Wood Chopper is a classic Belgian-style wit beer with a twist — wheat malt base with subtle hints of coriander, bitter orange peel and a modern addition of lime zest.
Lumberbeard New Skool IPA
6.9% ABV, 30 IBU
Lumberbeard Brewing's Spokane building began life as a GMC diesel repair shop and was in a state of disrepair when Bret Gordon took ownership. Only one room was untouched; the rest of the building is new. Speaking of new, Lumberbeard New Skool IPA is brewed with Centennial, Simcoe, and Citra for some old-school notes of pine and grass, lemon, and lime on the nose, followed by flavors or nectarine and lemon peel with hints of fruity pebbles.
LINK: Peaks & Pints cooler inventory
---