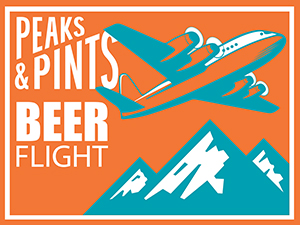 Peaks and Pints wants to cream the coronavirus. While we're at it we want the Seahawks to cream the Rams today. And, we want all you to enjoy the cream ales we have in our little craft beer lodge in Tacoma's Proctor District. Take them home and have one per Hawks quarter. Brewers often call cream ales a true American style because it emerged prior to Prohibition, as U.S. brewers looked for something to compete with the emerging popularity of the European-influenced lager brewing. They brewed as an ale though are sometimes finished with a lager yeast or lager beer mixed in. Adjuncts such as corn or rice are used to lighten the body. Look for pale straw to pale gold color, and low hop bittering and some hop aroma though some craft brewers have given the style more of a hop character. Cream Ales are well carbonated, well attenuated, and delicious. Stop by Peaks and grab Peaks and Pints Pilot Program: Cream Ales On the Fly.
Peaks and Pints Pilot Program: Cream Ales On the Fly
Maui Coconut Wireless
5.5% ABV, 12 IBU
The Maui Coconut Wireless Cream Ale recipe was developed by Maui Brewing's Oahu and Kauai Market Manager, Dustin Gomes, who states, "I wanted to create something refreshing and different than what's currently in market. I thought a light, refreshing Cream Ale with a hint of toasted coconut would be perfect for a relaxing day at the beach." Aloha Dustin! This coconut cream ale bursts with toasted coconut, lactose milk sugar, and infused with nitrogen to add a velvety and creamy finish. Think coconut macaroons.
Mother Earth Cali Creamin' Creamsicle
5% ABV, 20 IBU
In 2010, Daniel Love opened Mother Earth Brewing Co. in Vista, California, just north of San Diego. After an expansion in Vista, he then set his sights on a larger expansion that saw the opening of its second location, one a fair distance away from San Diego County to Nampa, Idaho, a suburb of Boise. Whether you're road tripping to Vista or Boise, bring along Cali Creamin' Creamsicle. For the past few years, Mother Earth's best-selling beer in San Diego has been its Cali Creamin' Madagascar vanilla cream ale. It became a Creamsicle after Mother added Valencia orange. Cali Creamsicle features hints of vanilla and a distinct citrus cream flavor that finishes slightly sweeter than its Cream Ale counterpart.
Pelican Kiwanda Cream Ale
5.4% ABV, 25 IBU
If you love Pelican Brewing Company's flagship beer Kiwanda Cream Ale, you're not alone — it's one of Pelican's most award-winning brews with 21 honors, including 13 gold medals and Peaks & Pints Tournament of Beer: West Coast Flagships champion. Inspired by one of America's traditional indigenous 19th century beer styles, Kiwanda Cream Ale is a nod to founding brewmaster Darron Welch's love of history and reputation for brewing beers as they are intended to be. Pelican is the first known craft brewer to honor the early American beer. Made of all local, hand-sourced ingredients — Two-row malt, flaked barley, Mt. Hood hops, CaraPils malt, pure local water and pure ale yeast — Kiwanda Cream Ale is pale gold with a fruity, floral hop aroma, golden color, refreshing body and clean, snappy finish.
Wet Coast Cream Ale
5% ABV, 28 IBU
Of course Wet Coast Brewing brewed a cream ale. West Pierce Fire and Rescue firefighters turned brewers Bryan Copeland and Aaron Johnson have a love affair with the Prohibition era. Their Gig Harbor brewery is named after the 1932 presidential election where King, Pierce, and Spokane counties voted "wet," meaning those citizens voted for Democrat Franklin D. Roosevelt and his desire to bring back the drinkies, instead of Republican Pres. Herbert Hoover's desire to keep "the noble experiment," Prohibition. "Indeed, we use flaked corn in our recipe for crispness," explains Wet Coast Sales Executive Paul Whitcomb. "But, what makes our Cream Ale unique and special is the addition of honey malt. It has a honey-like sweetness while still being crisp and clean, which is a wonderful combination. Galena hops bring a bright citrus component to this crushable cream ale. Customers often say it reminds them of a cream soda in a way."
---