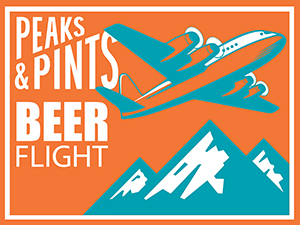 "Invention, my dear friends, is 93 percent perspiration, 6 percent electricity, 4 percent evaporation, and 2 percent butterscotch ripple." Those are the words of Gene Wilder in Willy Wonka and The Chocolate Factory. Brewing beer could be said to be much the same, especially these days, when creative beer makers are using all kinds of sweet treats in their recipes, from candy and cinnamon rolls to cereal and cookies. While the notion of a sweet beer may be sickening to those who prefer their hops, malt, yeast, and water to be unadorned by ingredients more commonly seen in the sticky hands of children on Halloween, there are many more beer lovers whose sweet teeth just can't be satiated. For them, we present Peaks and Pints Pilot Program: Cookie Beer On The Fly.
Peaks and Pints Pilot Program: Cookie Beer On The Fly
Narrows Peanut Butter Cookie
5.2% ABV, 15 IBU
Voted on by Narrows Brewing's Pilot Brew Club regulars for a full-sized batch, Peanut Butter Cookie is a malt forward, easy drinking blonde ale with peanut butter. The result is full bodied and nutty with a distinct aroma of fresh peanut butter cookies.
450 North Scoob Snaks Slushy XL
ABV NA
450 North Brewing is widely credited with starting the smoothie beer craze after pictures of their beers went viral a few years ago.  Since then, they've been pumping out the most insane, delicious, and sought-after adjunct laden beers you could imagine, including Scoob Snaks Slushy XL. The Columbus, Indiana brewery's version of Scooby Doo's beloved cookie is actually a fruited sour conditioned on blackberry, oatmeal cookies, graham cracker, vanilla cream, and lactose.
pFriem Oatmeal Cookie Ale
6.8% ABV, 10 IBU
pFriem Family Brewers Oatmeal Cookie Ale is a sweet take on those kooky medieval days of oat-brewed beers. Crafted with cinnamon, vanilla and cacao, this creamy, golden brew offers snickerdoodle, rose water, cashews, and strawberry on the nose, followed by flavors of banana foster, Almond Roca, and cinnamon toast before a finish of spun sugar and tiramisu.
Little Beast Maker's Series Salted, Malted Chocolate Chip Cookie Dough
7% ABV
Little Beast Brewing's Salted Malted Chocolate Chip Cookie Dough mimics the popular Salt & Straw ice cream of the same name. The ice cream gets its maltiness from crystal malt, so Little Beast's founder, Charles Porter, employed English crystal malt to replicate the malty character. Porter also used Singing Dog's double fold vanilla, Skagit Valley Malting's molasses malt, salt, lactose, and Meridian Cacao's cacao nibs in the brew. The beer represents the fifth release in Little Beast's Maker Series — a small-batch series of culinary-inspired beers with whole ingredients — that has included collaborations with Blue Star Donuts and Loretta Jean's pie bakery next door to the brewery's Beer Garden.
Great Divide Macaroon Yeti
9.5% ABV
Macarons, those glorious little cookies that look like an OCD pastry chef's re-envisioning of the hamburger as tiny French patisserie experiment, have become trendy. And unlike the rise of the cupcake, the macaron is something we greeted with great happiness. Peaks & Pints finds the same happiness when we sip on Great Divide Brewing's Macaroon Yeti. The OG Yeti opens with a massive, roasty, chocolate, coffee malt flavor that eventually gives way to rich toffee and burnt caramel notes. Macaroon Yeti adds almonds, coconut, and lactose to enhance the sweetness of this indulgent treat, while the traditional Yeti roastiness and chocolate fades slightly into the background.
LINK: Peaks & Pints cooler inventory
---