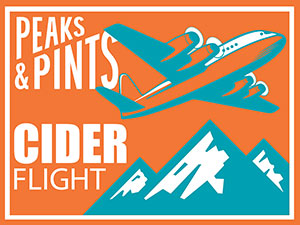 Happy National Apple Day! That's right; Oct. 21 is National Apple Day. Apple pie. Apple sauce. Apple crisp. National Apple Day celebrates the apple in all its various forms and reminds us that apples are shiny, tasty, and healthy. "An apple a day keeps the doctor away," "Apple of my eye," and "as American as apple pie" are all very common phrases in our language. Be it good health, familiarity or love, all are used to denote something we hold to be very important to our concept of culture in America. They also call attention to a humble fruit that not only shaped our language, but has also found its way into our landscape, built our economy, our taste in food and drink, our cultural heritage, our mythology and even our religious beliefs. Did you know there are more varieties of apples than any other fruit? Peaks and Pints celebrates National Apple Day in the only way we know — an apple cider flight. Drop by our bottle shop, taproom and restaurant in Tacoma's Proctor District and grab Peaks and Pints Pilot Program: Apple Day On The Fly.
Peaks and Pints Pilot Program: Apple Day On The Fly
Finnriver Farmstead
6.5% ABV

Finnriver Farm & Cidery's Farmstead is the result of friends and neighbors bringing their bruised, bitter, and bizarre apples to the farm. The Finnriver cidermakers then press and ferment this medley of fruit adding a bit of sweetness to balance acidity and tannins. They conduct three different ferments with three different yeast strains to harvest subtleties from each and combine for a cloudy yet clean farmhouse cider. Sweetened with organic cane sugar. It hits the nose with warm bread and sweet apple. It offers a rustic taste of the ripe orchard and hearty homestead cider tradition. Nutty with a sharp acidity that balances a gentle tannic finish. Unfiltered lees lend body to this cider.
Whitewood Olivia Newtown-Jonathan
6.6% ABV
Whitewood Cider's Olivia Newtown-Jonathan is a Newtown-Jonathan blend Whitewood affectionately and humorously refers to as Olivia. Whitewood's Newtown-Pippin cider has rich lime and pineapple flavors that lend a perception of tropical sweetness and develop into fresh apples flavors. The cidery's Jonathan cider starts out full up front good acid backbone followed by scant traces of a caramel/butterscotch flavors, and finishes clean with notes of, sour orange, Meyer lemon and citrus flavors.
Snowdrift Cliffbreaks
7.8% ABV
Snowdrift Cider Company sits in Central Washington near East Wenatchee. The cidery controls its own source of apples, tending an orchard that not only produces dessert apples, but also an array of traditional cider apples. Snowdrift's most popular cider, Cliffbreaks sports a rich deep golden color with full body. A light sparkle carries classic English cider and bittersweet apple aromas, followed by flavors of melons, tart apple, and dried fruit. Complex tannins and mouth-watering acidity are balanced with just enough sweetness.
Incline Imperial Hazy Honeycrisp
8.5% ABV
Since 2015, the Zehner family has made delicious, crushable cider, many from a dry-hopped apple base to pull out citrus aromas. Their Tacoma-based Incline Cider use 100 percent fresh pressed apples, no added sugar, no carbonated water, and the result are ciders that are balanced, not too sweet and super flavorful. Their Imperial Hazy Honeycrisp is full of apple character and more reminiscent of a traditional cider. The crisp and light hazy cider sports a mild sweetness from the Honeycrisp apples.
Seattle Odyssey
8.4% ABV
Made with Seattle Cider's custom blend of Washington apples and a cider specific yeast, this imperial cider is bright with light acidity and plenty of fresh apple character. It's back sweetened with brown sugar to add a bit of complexity, and to punch up the juicy apple qualities. Expect a fruit forward nose, with stone fruit, apple, and cantaloupe at first sip.
LINK: Peaks & Pints cooler inventory
---