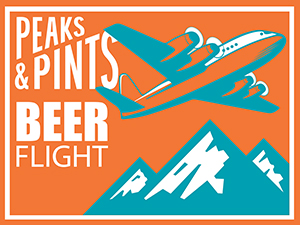 Collaborations between breweries aren't exactly new, but their results have become a much more common sight in Peaks and Pints' cooler lately. Collaborations can give brewers a chance to exchange ideas with others and mix their individual house styles. The best collaborations often result in something unique that neither brewery would normally make on its own. Typically, whoever owns the collaboration brewing system and sells the beer sets the rules. Also, when professional brewers collaborate with other professional brewers, the conversations lean toward technical details. When professional brewers collaborate with civilians, the brewing room chatter tends to be more about big ideas and work up something possible. Today's beer flight today centers on brewery collaborations — professional and civilian participants — that we have titled Peaks and Pints Pilot Program: Collaborations On the Fly.
Peaks and Pints Pilot Program: Collaborations On the Fly
Breakside Turquoise Tuxedo
7.5% ABV, 50 IBU
Brewed with Ninkasi Brewing, this hazy, juicy IPA is brewed with malted white wheat, milk sugar, round water, and Breakside Brewery's house "London" yeast for a pillow-y foundation to bomb with some of the two Oregon breweries' favorite hops. Mosaic and Eldorado push notes of pineapple, berries, and tropical fruit. To complement them, they added small amounts of "power hops" — varietals strong enough that they can easily run amok in a beer — Talus, Sabro, Galaxy, and Nelson Sauvin. Used in balance, they amplify all of those fruit flavors and add notes of coconut, aged Riesling, lime, mint, lemongrass, and nectarine.
E9 Brewing Hold On to 18
7.2% ABV
In the '80s, heavy metal ruled. Black 'n Blue came closer to donning the fearsome iron crown of metal stardom than any other Portland, Oregon band. You may never have heard of them, but Shane, Mike, Don and the rest of the brew crew from E9 Brewing and Rainy Daze Brewing have heard. In fact, they collaborated on a tribute IPA, Hold On to 18, the hit off Black 'n Blue's eponymous debut album, Black 'n Blue. The West Coast IPA is brewed and heavily dry hopped with Enigma and both Mosaic pellet and cryo hops.
Brothers Cascadia Everybody and Their Brother
6.7% ABV, 65 IBU
Everybody and Their Brother knows it's hard to beat a delicious West Coast IPA. At least, that's what Vancouver, Washington brewery Brothers Cascadia Brewing and their friends up the Columbia River, Everybody's Brewing, believe. With mouthwatering aromas of pine and fruit punch, this crisp, collaborative IPA has notes of pine and hops.
Everybody's Pop-Up Park IPA
6.9% ABV, 75 IBU
Peaks & Pints Pop-Up Park was unlike anything White Salmon, Washington, had ever seen. It was the Columbia River George's hottest destination for a day, a pop-up park offering .000000426459 square miles of scenic vistas, a 5-foot-long hiking trail and one species of fake flora nestled in Everybody Brewing's brewhouse. Situated close to a gorgeous three-foot waterfall of lauter tun runoff, the pop-up park's guests consisted mainly of Peaks & Pints staff chillin' instead of helping collaborate on their new house beer, Everybody's Pop-Up Park IPA. Good thing too as the amber colored IPA — brewed with Amarillo cryo, Simcoe, Cascade, Chinook and Centennial for pine and citrus — is worthy enough to charge admission.
---