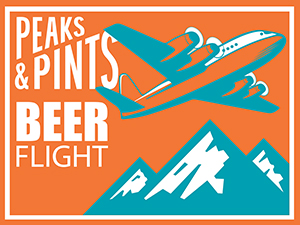 Back to the Future Part II may have predicted tablets, flat screen televisions and video conferencing in 2015, but not even Doc Brown could have foreseen Jon Snow's fate. In fact, the year 2015 hosted many unpredictable scenarios and return-to-forms, from Justin Bieber's chart-topping comeback to Steve Harvey crowning the wrong Miss Universe. There were goodbyes (Jon Stewart, David Letterman, Mad Men) and hellos (Adele!, a baby panda named Bei Bei, wine ice cream). "Star Wars" reawakened, and Caitlyn Jenner emerged. There were only 3,464 craft breweries at the beginning 2015, which has more than doubled. Today, Peaks & Pints salutes a few breweries that celebrate their sixth anniversary this year. Stop by our craft beer bar, bottle shop and restaurant, grab our to-go beer flight Peaks and Pints Pilot Program: Class of 2015 On The Fly, light six candles. Happy anniversary!
Peaks and Pints Pilot Program: Class of 2015 On The Fly
Lucky Envelope Coconut Coffee Imperial Stout
11% ABV
Barry Chan became a Certified BJCP judge and award-winning homebrewer before opening Lucky Envelope Brewing in Seattle's Ballard neighborhood in May 2015. Less than five months after opening, he grabbed a bronze medal at the 2015 GABF for his Helles! His Coconut Coffee Imperial Stout is brewed with almost 100 pounds of freshly toasted coconut and Seven Coffee Roasters' dark Roaster's Choice coffee blend. Expect notes of vanilla, cocoa, and pear from the coffee and creamy young coconut give the stout a complex depth of flavor.
Alesong Mocha Rhino Suit
12.2% ABV, 31 IBU
The name Rhino Suit isn't something the Alesong Brewing & Blending owners wear to raise awareness and funds, but rather it's a term dropped by their winemaker friend while Doug Coombs, Brian Coombs and Matt Van Wyk listened to his business advice. The Sonoma winemaker said you must wear a rhino suit every day to battle through walls of negativity. After the meeting, the Alesong owners knew the name of their first beer they'd brew in 2015 just outside Eugene, Oregon. The Mocha version of their imperial stout is a blend of imperial stouts aged in Heaven Hill bourbon barrels and finished on hand-selected and freshly roasted Nicaraguan coffee and Honduran cocoa nibs from the local artisans at Coffee Plant Roasters and Chocolate Alchemy. Notes of vanilla and coconut marry with the flavors of dark cocoa and roasty coffee for a decadent treat.
UNSUNG Carina
8.5% ABV
Ohio native and UNSUNG Brewing founder Mike Crea — who is certified by the Cicerone Program and earned a diploma in brewing technology from the Siebel Institute in Chicago — brews small batches of craft beer in Tustin, California, but sells a majority of them up north from a modernized century old marmalade factory in Anaheim, the sudsiest town in Orange County. Founded in 2015, comic book fan Crea drinks West Coast IPAs while watching superhero movies, including his Nebuloid series beers. Urban Dictionary says "Nebuloid" is an object, person, place or thing that is ridiculously amazing or strange. Therefore, one could guess UNSUNG's Nebuloid IPA Series is ridiculously amazing or strange. We're placing Nebuloid Carina is the ridiculously amazing category. Named after the Carina Nebula, known as NGC 3372 — on ot eh largest diffuse nebulae in the heavens — this hazy double IPA is brewed with Citra, Simcoe, and Amarillo for all the pine notes.
Wet Coast 6th Anniversary Hazy IPA
6.5% ABV, 35 IBU
West Pierce Fire and Rescue firefighters Bryan Copeland and Aaron Johnson are the brewers and co-owners behind Wet Coast Brewing, along with their wives Molly Copeland and April Johnson. They started planning their brewery for years but didn't get serious until 2012. They opened in Gig Harbor in 2015 on a 3.5-barrel brewing system, which has since been replaced by a much larger system. They just celebrated their sixth anniversary with a special hazy IPA brewed with generous amounts of wheat malt and flaked oats, plus Imperial Yeast's Juice Strain. It's all the haze; but finishes light and clean. Expect a huge aroma from a generous dry hopping of Strata, El Dorado, and Azacca.
LINK: Peaks & Pints cooler inventory
---