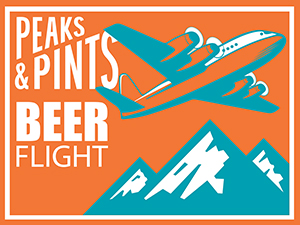 Fifteen minutes of fame used to sound too short. But in 2014 — with Facebook, Twitter, Instagram, and a thousand other ways to get news instantly — fame was more fleeting than ever. One minute you're watching the world take the Ice Bucket Challenge, and the next minute, it was all about a Mountie-inspired hat, a nipple debate, and a selfie — and a booty — that broke the Internet. The year also saw the shooting of unarmed teenager Michael Brown, the death of Robin Williams, Ebola, the missing Malaysia Airlines flight, midterm elections, bad calls by the National Football League, the VA medical scandal, celebrity personal photos hacks, net neutrality, massive General Motors recalls, the White House intruder, and Washington state mudslide. There were less than 3,000 craft breweries at the beginning 2014, which has tripled. Today, Peaks & Pints salutes a few Washington state breweries that celebrate their seven anniversaries this year. Stop by our craft beer bar, bottle shop and restaurant, grab our to-go beer flight Peaks and Pints Pilot Program: Washington Class of 2014 On The Fly, and light seven candles. Happy anniversary!
Peaks and Pints Pilot Program: Washington Class of 2014 On the Fly 
Triceratops Revival Coffee Milk Stout
4.4% ABV
In 2014, Joint Base Lewis-McChord firefighter Rob Horn took his homebrewer skills pro and open the Tumwater brewery, Triceratops Brewing, named after his three kids (three Horns). When concert promoter, Capitol Theater executive director and Olympia Heritage Commissioner Audrey Henley and her coppersmith, mechanic, rock star husband Jimmi Davies said yes to their downtown Olympia working motorcycle garage coffee bar Revival Motors & Coffee supplying the complex, full-bodied, cold brew Arabica coffee from Caffee Umbria for Horn's Revival Coffee Milk Stout, you must ask yourself, "Where has this beer bean all my life?"
Top Rung My Dog Scout Stout
6% ABV, 30 IBU
In 2014, two months after the Seattle Seahawks beat the Denver Broncos in the Super Bowl, we drank Top Rung Brewing's My Dog Scout Stout on their opening day. As we drove back to Tacoma, listening to Pharrell Williams' "Happy," we felt happy for Thurston County firefighters Casey Sobol and Jason Stoltz for taking their award-winning homebrews and going pro, opening a brewery in a remote Lacey location that isn't so remote anymore. Named after Top Rung's former head brewer Jason Stoltz's black lab, Scout, this puppy grabbed gold in the American Stout category of the 2015 Washington Beer Awards. Today, Head Brewer Tyler Mathis brews the easy-drinking easy stout made with eight different malts.
Holy Mountain Sunless Year
8% ABV
Holy Mountain Brewing Company is the house that oak built in 2014. No so much in the physical plant next to Seattle's Interbay railroad lines, but rather the oak puncheons from local wineries and distilleries co-founders and former Schooner Exact Brewing brewers Mike Murphy and Colin Lenfesty use to create their tart and Brettanomyces-fermented brews that hundreds of beer enthusiasts wait for in the rain. In the case of their Baltic porter, Sunless Year, the oak is third use whiskey barrels, which along with their house lager yeast and four-week cold conditioning help create flavors of bourbon, dark sugar, caramel, oak and dark dried fruits.
Three Magnets Pomp And Frills (Teal Variant)
5% ABV
Evergreen State College alumni Nathan and Sara Reilly, who had been running Darby's Cafe for nearly a decade in downtown Olympia, opened neighboring Three Magnets Brewing in November 2014. They hit the lottery when they hired head brewer and "Local Sourcing Liaison" Pat Jansen, who also hit the lottery with assistant brewer Jeff Stokes. Together, they brewed a wide range of award-winning craft beers. Jansen went on to open Matchless Brewing and Stokes took over until he took the head brewer job at Sig Brewing. Today, Aaron Blonden of Matchless Brewing and Chainline Brewing fame runs the kettles at Three Mags. His Pomp And Frills (Teal Variant) hazy pale ale is triple dry hopped with Sabro.
Aslan B Proud
6.5% ABV
Jack Lamb and his future partners, Frank Trosset and Pat Haynes, started their pilot brewing effort in the basement of a parent's house, and soon moved to a garage. With the help of Frank's brother, Boe, who would later also join the business as a fourth owner, the team built their brewpub with their own hands in eight intense months in 2013 and 2014. In May 2014, when they opened for business as Aslan Brewing Co., one of the Northwest's first organic breweries, all four of the freshly minted owners were under 30 years old. Their annual B Proud dry, citrusy IPA is brewed to benefit Bellingham Pride and PRIDE month.
Postdoc [Redacted]
6.8% ABV, 54 IBU
Postdoc Brewing was the named head brewer and co-owner Tom Schmidlin gave his garage home brewery system while he completed his PhD in Biochemistry at the University of Washington. The name stuck and became a commercial reality once Tom and his wife, Julie, opened the brewery in 2014. Tom's many years of brewing experience and knowledge of the craft brewing industry helped get the enterprise off the ground. They brewed this IPA with their [REDACTED] friend and former US Marine Sgt. Josh Fulmer using [REDACTED] unique blend [REDACTED] to support Josh's [REDACTED] non-profit, Send It Society! With notes of [REDACTED], [REDACTED], and [REDACTED]. Fairly [REDACTED] with a [REDACTED] finish. Moderately [REDACTED] and [REDACTED].
LINK: Peaks & Pints cooler inventory
---