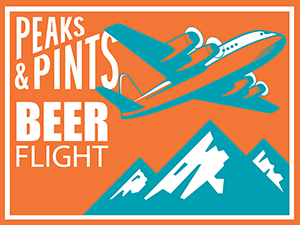 "Cinco de Mayo," Spanish for "the sink is full of mayonnaise." OK, not really. We made that up, which is only fitting, because the idea that May 5 is a big holiday celebrated throughout Mexico is also made up. This yarn was spun by some PR hack for Corona beer back in the '80s when the company was looking for a way to get Americans to drink more beer. Since this is not an especially hard task, they didn't work especially hard on the idea, not even hard enough to note that Mexico's real Day of Independence is Sept. 16. Cinco de Mayo commemorates The Battle of Puebla, where Mexicans defeated the French army, and in Mexico is mostly a regional holiday. Holy mole! Why celebrate the pseudo holiday by drinking tasteless beer? It's the perfect opportunity to drink Mexican inspired craft beer. We offer seven such beers in our Peaks and Pints Pilot Program: Cinco de Mayo Flight.
Peaks and Pints Pilot Program: Cinco de Mayo Flight
Avery El Gose
4.5% ABV
Inspired by our love for the tangy Mexican cocktail known for combining lime and salt, Avery Brewing brews this tart German gose with a refreshing margarita-inspired sour. Light and subtle fruit on the nose has hints of fleshy papaya or prickly pear. The flavor hits with light lime, slightly bitter undertone, salt for body without serious salinity, and a light grainy malt.
Chuckanut Mexican-Style Dark Lager
5% ABV, 18 IBU — draft!

Chuckanut Brewery's Mexican-Style Dark Lager is an updated version of their 2 Amigos Mexican-Style Dark Lager. Following a traditional Mexican-Style dark lager recipe, and brewed using Skagit Valley grown and malted barley, this easy drinking beer has smooth flavors of dark toast and bread, plus an effervescent light body despite its dark color. Chuckanut Mexican-style Dark Lager is on tap at Peaks & Pints.
Full Sail Sesiόn Cerveza
4.5% ABV
Straw gold in color, and light in body, Full Sail Brewing's Sesiόn Cerveza is brewed with Pilsner malt, and flaked corn, plus Celeia and Northern Brewer hops. It hits the nose with warm bread, straw, light floral hop notes, and some cereal grains, followed by more floral hops and straw but much stronger here than on the nose and hits hard out of the gate. Some nice and unexpected depth in the middle and closes with floral hops and grains.
Three Creeks Tres Arroyos Mexican Lager
4.5% ABV
Three Creeks Brewing brewed Tres Arroyos Mexican Lager with Pilsner malt and Saaz hops for a clean, crisp, and refreshing lager, while traditional flaked maize adds just a touch of sweetness. Specifically, Pat "Patio" Shea created the recipe for this Mexican lager. He's been around the Central Oregon brewing scene for ages and brewing in general for nearly three decades. Patio began his brewing career at Rock Bottom in Portland, then Anderson Valley Brewing, Deschutes Brewery, Crux Fermentation Project, 10 Barrel Brewing, GoodLife, and Three Creeks.
Stone Buenaveza Salt & Lime Lager
4.7% ABV
Stone Brewing was founded in San Diego County, just minutes from the border. Their Spanish-speaking neighbor has inspired this lager brewed with salt and lime. Sweet white bread starts off the nose coupled with mild lime zest. It's an inviting, softer aroma with freshly cut grass, zesty citrus peel, and fleeting maltiness. Has a similar flavor profile, with some bready malts, some nice lime hints, a bit of salt, and some floral hops for a bit of bitterness. It's refreshing and palate cleansing and won't compete too much with the sandwich.
21st Amendment El Sully
4.8% ABV, 19 IBU
21st Amendment's El Sully is much more than a crisp Mexican-style lager with light notes of spice from Northern Brewer hops. Corn, plus Pale and Munich malts, provide a creamy texture and combine with the hops create a light-bodied, low alcohol, flavorful and complex lager. It hits the nose with sweet Pilsner malt aroma with delicate biscuit, lemon citrus, slight toast, and a touch of honey. On the tongue, we taste a lot for such a light lager. We get some light Pilsner malt with a medium-sweet biscuit presence, but not overly sweet. The floral, earthy hops flavors blend right in, with a low-key pleasant bitterness. Expect a slight apple note toward the end of the sip.
Wet Coast Costa Humeda Mexican Lager
4.9% ABV, 22 IBU
The Viennese lager is widely regarded as an original lager style. The beer shared its name with the Austrian city where brewer Anton Dreher first brewed it with an isolated lager yeast, revolutionary for its time. The combination of the new lager yeast and the invention of high-temperature-controlled malting yielded a reddish beer, from the Vienna malt that was clean tasting due to the yeast. Wet Coast Brewing's Costa Humeda Mexican Lager brings Vienna, Pilsner, and Chocolate malts together with just a touch of flaked corn to create an easy drinking Lager that is full of character. Expect notes of sweet malt and chocolate.
LINK: Peaks & Pints cooler inventory
---