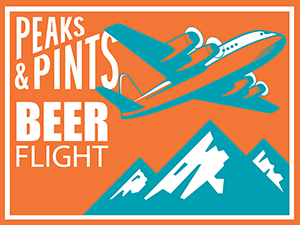 Today is May 4 — which may not mean a lot to a lot of people, but it's a special date for serious Star Wars fans. May the 4th (as in "May the Force be with you") is the day on which we celebrate all things Star Wars-related. And what better way to celebrate the date than by drinking space-themed craft beer while watching Star Wars from your couch. Where in the universe can you find such beer, padawan? Embrace your inner Jabba (or related Hutt) and stop by our little craft beer lodge for our space-themed, to-go beer flight — Peaks and Pints Pilot Program: The Cooler Awakens Beer Flight.
Peaks and Pints Pilot Program: The Cooler Awakens Beer Flight
Anchorage Interstellar Void
7% ABV
Space is an empty void. But one part is even emptier and more void-ish than the rest. Just southwest of Orion in the constellation Eridanus, astronomers have discovered a swath of space, one billion light years across, that isn't merely devoid of stars and planets and space dust, but dark matter, too. Anchorage Brewing's Interstellar Void is a fruited sour fermented and aged in Missouri oak with saison yeast, Brettanomyces and house mixed culture, dry hopped with Galaxy and Phantasm powder, and finished with passionfruit for an initial barn floor funk that turns into tart passionfruit and grassy citrus.
Level Never Tell Me The IBUs
6.8% ABV
"You're not actually going into a hop field are you?"
"They'd be crazy to follow us."
"The odds of disliking this West Coast IPA due to IBUs is approximately 3720 to 1."
Level Beer in Portland, Oregon, names many of their craft beers after Star Wars characters and themes. Just in for May the Fourth Be With You comes Never Tell Me The IBUs with the quotes above on the can. It's bright, juicy, citrusy, and assertively bitter.
Fort George Java the Hop 2023
6.8% ABV
Fort George Brewery brought back its Java the Hop coffee IPA for this year's May The 4th Be With You. Together with their friends at Coava Coffee in Portland they tweaked past Java the Hop recipes carefully selecting hop varieties and beans whose complex aromatics and flavor profiles would work well together in an IPA.
Block 15 Super Nebula
11% ABV
A nebula is an enormous cloud of dust and gas occupying the space between stars and acting as a nursery for new stars. The roots of the word come from Latin nebula, which means a "mist, vapor, fog, smoke, exhalation." Nebulae are made up of dust, basic elements such as hydrogen and other ionized gases. Block 15 Brewing's Nebula is a stout brewed with rolled oats and European pale, caramel, chocolate, and brown malts, and then gently hopped with English Fuggle. The Corvallis, Oregon's Super Nebula is an imperial variation of their classic oat stout Nebula, matured in bourbon barrels and conditioned with fresh roasted cocoa nibs.
Ecliptic Super Phaser Hazy IPA
8% ABV
John Harris' background is one steeped in Oregon's rich craft brewing history. After beginning as a brewer at McMenamins' breweries, he moved to Deschutes where he created the recipes for Mirror Pond, Black Butte Porter, Jubelale and Obsidian Stout. He spent the next 20 years of his career as a brewmaster at Full Sail in charge of creating the Brewmaster Reserve line of beers. In 2013, Harris founded Ecliptic Brewing purchasing the brewhouse from friend and Dogfish Head founder Sam Calagione. Harris' love for brewing and astronomy shines as he pushes the limits, including the haze craze with Phaser Hazy IPA. Super Phaser is fan-favorite Phaser to the extreme. With a higher ABV and extra doses of Azacca, Mosaic, El Dorado and Citra, this recipe dials up the juicy hop flavor.
Vice Looking For Love In Alderaan Places
8.5% ABV
Alderaan was infamously destroyed in the first installment of the Star Wars franchise, yet Darth Vader and the rest of the Galactic Empire would continue to insult the Core World's memory long after its obliteration. The Empire's destruction of Alderaan devastated the galaxy and the Force itself, yet it ultimately did not have the effect intended by Grand Moff Tarkin. Alderaan's destruction would embolden the Rebel Alliance and later the New Republic, which in turn led to the Empire's continued cruelty towards the few surviving Alderaanians. Vice Beer's Looking For Love In Alderaan Places is a double dry hopped double hazy IPA exploding with Strata, Mosaic & Citra hops.
Terramar 2023 Space Quadyssey
10% ABV
Terramar Brewing & Distilling's 2023 Space Quadyssey is aged in freshly emptied Terramar Whiskey barrels for 18 months, then conditioned with a champagne yeast strain and finally cellared cold for an additional 6 months. Full bodied, bold, and complex, this third annual Quadyssey has malty notes of dark cherry, dried plum, dark toffee, and subtle spice with oak, tannin, and vanillin complexity.
LINK: Peaks & Pints cooler inventory
---