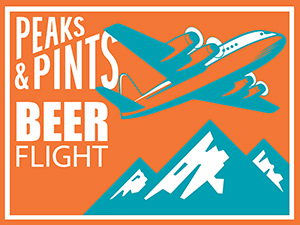 Christmas is everyone's favorite holiday, but true beer fans know that the most wonderful time of the year is made even more wonderful with a pint in your hand. Winter warmers and other dark, comforting brews take over around the holidays to help carolers and Christmas tree shoppers thaw out after a chilly night. These beers dance on the tongue, fill the belly and warm the soul. Many of the traditional winter warmers are malty, high-strength ales with a sweet and/or roasty character. Old ales, strong ales and barleywines fit right in. Some new holiday beers boast Christmas-inspired herbs, fruits and spices. Almost all of them are rich and delicious, including the five Peaks and Pints presents in today's to-go beer flight: Peaks and Pints Pilot Program: Christmas Beer Flight.
Peaks and Pints Pilot Program: Christmas Beer Flight
Corsendonk Christmas Ale
8.5% ABV
Corsendonk Christmas Ale has all the sugar and spice. Brewed with Pale, Munich and Caramunich malts, plus Kent Goldings hops, this rich, dark, joyous brew has sweetish, yeasty-spicy and slightly fruity aroma of caramel, coriander, toasted coconut, some raisins and a touch of chocolate with similar tastes followed by a medium long, quite bitter, moderately yeasty-spicy and slightly roasty finish.
Maritime Pacific Jolly Roger Christmas Ale
9.2% ABV

George and Jane Hancock founded the ma-and-pa Maritime Pacific Brewing Company in an old transmission shop in 1990 in Seattle's Ballard neighborhood. In 1997 they opened the Jolly Roger Taproom named, as they say, "in honor of our most popular holiday brew": Jolly Roger Christmas Ale. A beer fridge staple, Jolly Roger English Strong Ale combines rich malt character with a blend of fresh Northwest Chinook and Cascade hops. This year, Maritime gave its famous winter ale a spruce treatment. Spruce tips have been used in the brewing process for hundreds of years. They were one of the main additions in beer before people learned about brewing with hops. The fresh, tender tips have a mellow pine scent and a crisp flavor.
Silver City Oak Aged Old Scrooge Christmas Ale
9.9% ABV
What's the difference between a Christmas beer and a winter beer? Well, the labels for Christmas beers are usually red and green, while winter beer labels tend to be blue and white. As far as style goes, though, there's not much to differentiate them. In fact, neither is even an official beer style. It's fair to say Silver City Brewery's Oak Aged Old Scrooge Christmas Ale is a Christmas and winter beer. Besides its Christmas label and Scrooge reference, "Christmas" is in its name, this winter ale had a long slumber in whiskey barrels for fruity esters and rich, malt body with cherry and vanilla notes imparted by the oak.
Huyghe Delirium Noel
10% ABV

In the town of Ghent sits Brouwerij Huyghe, the oldest, active brewery in that corner of Belgium. The brewery is best known for Delirium Tremens, a highly regarded Belgian strong pale ale, but they produce a wide variety of beers ranging from pilsners, witbiers, fruit ales and lagers. Huyghe's Delirium line of beers is famous for the pink elephant that adorns every label on every ceramic painted bottle. Its Noel labels are no exception. Skiing, sledding, pulling Santa's sleigh; the Pink Elephant does it all. Delirium Noel is a big, spicy beer with a lot of dried fruit character and touch of alcohol to let you know that you're drinking a beer with a double-digit ABV.
Brasserie Dubuisson Scaldis Noel
12% ABV

Brasserie Dubuisson introduced Bush de Noël in 1991 to respond to consumer demands for the ideal beer to add luster to their end-of-year celebrations. Americans know it as Scaldis Noël — a name change to avoid confusion with Busch. Its bouquet is impressive, with smooth alcohol, honey, and cracked pepper notes that all vie for attention. The flavor sinks deep into the tongue with toffee and honey sweetness, followed by raisin, plum fruitiness, peppery spice, and assertive bitterness. It's so easy to drink you don't realize it's around 12 percent alcohol until you ask.
Schloss Eggenberg Samichlaus Classic
14% ABV

It's THE Christmas beer, no? Brewed once a year on St. Nick's Eve and aged 10 months, Brauerei Schloss Eggenberg's 14-percent ABV doppelbock was the strongest lager in the world when Michael Jackson wrote of it in 1991. That's no longer the case, but it's still revered as one of the greats. It hits the nose with dark fruits, red wine, and roasted nuts. Molasses, roast malts, spices, and roast nuts flows over the tongue. This thick, almost oil like, doppelbock hides the alcohol well, but leaves a warmth.
LINK: Peaks & Pints cooler inventory
---