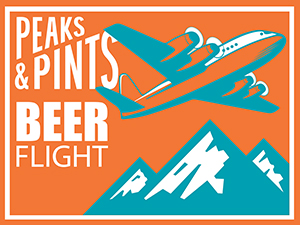 For the fifth consecutive September, Peaks and Pints is throwing a month-long autumn beer party marrying two popular seasonal beer styles on draft — fresh hops and Oktoberfest lagers — this year naming it, "Bride of Fresh Hoptoberfest." In September 2017, in keeping with our multi-rooted sensibilities, Peaks and Pints hosted The Hunt For Fresh Hoptoberfest, tapping fresh hop and Oktoberfest beers daily. Crowds discovered bright, hop-hazy fresh-hop beers, just hours from field to kettle and mere days from the fermenter to their glass AND drank to their health with clean, hearty Oktoberfest-style lagers from Germany and nearby. Peaks & Pints hosted Son of Fresh Hoptoberfest in 2018, followed by Rise of Fresh Hoptoberfest in 2019, and last year's Behind Fresh Hoptoberfest. In celebration of Bride of Fresh Hoptoberfest, Peaks & Pints suggests after you have a couple pints that you take the first round of fresh hops and Oktoberfest beers home with today's to-go flight, Peaks and Pints Pilot Program: Bride of Fresh Hoptoberfest On The Fly.
Peaks and Pints Pilot Program: Bride of Fresh Hoptoberfest On The Fly
Sierra Nevada Oktoberfest 2021
5.5% ABV, bottle, crowler
For the second year in a row, the pandemic prevented Sierra Nevada from traveling to Germany and brewing their annual Oktoberfest collaboration. Instead, the Chico, California brewery brewed their Oktoberfest 2021 in their state-of-the-art brewhouse with Black, Munich, Pilsner and special Roast malts, Hersbrucker and Tradition hops, and Lager yeast. Enjoy this rich Märzen lager featuring German malts for inviting aromas of honey and biscuity bread, flavors of caramel and graham cracker, and visions of sprawling beer tents.
Bayern Oktoberfest
6% ABV, bottle, crowler
Bayern Brewing's owner, Jurgen Knoller, came to Missoula, Montana, from southwestern Germany in 1987 and he still brews his Oktoberfest according to the standards of the Brewers' Guild of Munich, which was established in 1815 when they brewed this Bavarian Dark Märzen for the first time to celebrate the royal wedding of King Ludwig I and Princess Maria Theresia. This lager is brewed with Pilsener, Munich and German Dunkel malt. The hops come straight from the Hallertau region in northern Bavaria and the finishing hops are Saaz from the Czech Republic. It's a classic Bavarian dark Märzen — not too sweet yet malty with a nice hop flavor.
Breakside Stay Fresh – Centennial
7% ABV, can, crowler
Breakside Brewery has received tons of un-dried "wet" hops from Goschie Farms in Silverton, Oregon, to create seven fresh hops beers this year. These fresh hops impart unique green, pungent aromas to the beer that can't be had the rest of the year. In order to extract as much fresh flavor from each hop possible, the Portland brewery employs their signature "hop-shattering" method using liquid nitrogen to freeze the fresh hops and break them apart, thus exposing the coveted lupulin glands that are packed full of hop flavor and aroma. Breakside recreated their stay Fresh IPA brewed with a double dose of fresh Centennial hops for notes of lemongrass, pineapple, baking spice, and green.
LINK: Peaks & Pints cooler inventory
---
Category:
Beer Line Blog
,
Craft Beer
,
Critical Drinking
,
Events and Festivals
,
In The Cooler
,
New Releases
,
News and Updates
,
On Tap Today
,
Peaks and Pints Pilot Program
,
Shop
,
Specials
,
Taps Takeovers