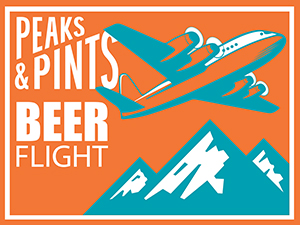 Beer purists typically scoff at a brew that incorporates anything into its recipe besides water, malt, hops and yeast. So offer them a beer with fruit in it and you're bound to hear a speech on the German Beer Purity Law of 1516. But if one can get past traditionalist approaches to drinking beer, they might find that fruit can be a fantastic brewing ingredient — such as blueberries. Blueberries can give an earthy richness and complexity to beers, especially with darker styles. But, blueberries are a rare beer addition—the flavor is subtle, and often brewers end up making cloyingly sweet syrup with a blueberry aura. Peaks & Pints just so happens to have five craft beer brewed with blues berries in our cooler. Stop by Peaks for our to-go blueberry beer flight, Peaks and Pints Pilot Program: Blueberries on the Fly.
Peaks and Pints Pilot Program: Blueberries on the Fly
Urban Family Perpetuation
6% ABV
In 2015, Urban Family Brewing moved it's tiny, 4-year-old brewery in Seattle's Ballard neighborhood across Salmon Bay to lower Magnolia. This winter, they moved back to Ballard and into an expansive new brewery in the heart of the neighborhood's beer district. Perpetuation is their Sip Magazine Double Gold medal winning sour ale with boysenberries, blueberries, and raspberries with a focus on a massive fruit character, with a dry finish, and balanced acidity.
Logsdon Deep River Blues
7.5% ABV
Logsdon Farmhouse Ales started in a big, red barn in the rural outskirts of Hood River in 2011, then quickly churned out some of the finest mixed fermentation ales in the history of the Northwest. Though founder Dave Logsdon and acclaimed brewers like Charles Porter (Little Beast) have also moved on to other projects, present brewer Shilpi Halemane and the team have been steadily creating new and interesting pours, including 2020 Oregon Beer Awards bronze medalist Deep River Blues, a tart, gently funky saison made with loads of blueberries. Indeed, 1.7 pounds of blueberries per gallon of beer were refermented in a combination of French and American oak barrels, providing tons of ripe berry aromas and a gorgeous shade of pink. The full flavor of the blueberries is complemented by the tart, dry finish.
Crooked Stave Serenata Notturna Blueberry
12% ABV
Crooked Stave is a play on the word "stave" — one of many strong wooden slats, collectively bound together by metal hoops to shape a wooden barrel. The Denver, Colorado brewery's name is a commitment to how closely it works with each barrel, and embodies the love it puts into each beer. Wooden barrels are the focal point of the brewery and the beers it brews — specialty Brettanomyces-only, wild, sour and barrel-aged beers. Serenata Notturna Blueberry is a barrel-aged golden ale with Washington state blueberries for a flavor of tart brettanomyces, tart blueberries, and woodsy oak.
Black Raven Kitty Kat Blues
5.8% ABV, 35 IBU
From Redmond, comes this Black Raven Brewing unassuming pale ale that has the screws turned a bit with additions of dried blueberries, vanilla bean and, originally, organic mountain-grown catnip, but has since been substituted with hibiscus. The result is an easy drinking pale ale that finishes like this morning's blueberry muffin with, of course, vanilla, dry bittering hops and hibiscus.
Nightmare Parilla
16.2% ABV
With ravenous passion for horror flicks and death metal and a disdain for cookie-cutter IPAs, Billy Powell's Nightmare became real in December 2018. He founded the Long Island-based, but not based, Nightmare Brewing Company. Powell honed his homebrewing skills Sand City Brewing in Northport, New York, under the tutelage of owner Bill Kiernan. Next, Powell hit the road, literally, as a gypsy brewer, using other brewery's facilities to produced his torture-themed craft beer. His Parilla is an imperial stout brewed with Chilean blueberries and hand-roasted Ethiopian coffee beans from Flux Coffee. Expect a thick stout with sweet coffee and light blueberry.
---