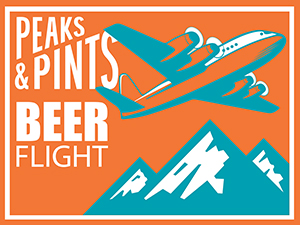 Beer purists typically scoff at a brew that incorporates anything into its recipe besides water, malt, hops, and yeast. So, offer them a beer with fruit in it and you're bound to hear a speech on the German Beer Purity Law of 1516. But if one can get past traditionalist approaches to drinking beer, they might find that fruit can be a fantastic brewing ingredient — such as blueberries. Blueberries can give an earthy richness and complexity to beers, especially with darker styles. But blueberries are a rare beer addition—the flavor is subtle, and often brewers end up making cloyingly sweet syrup with a blueberry aura. It's National Blueberry Pie Day and Peaks & Pints just so happens to have five craft beer brewed with blueberries in our cooler. Stop by Peaks for our to-go blueberry beer flight, Peaks and Pints Pilot Program: Blueberries on the Fly.
Peaks and Pints Pilot Program: Blueberries on the Fly
450 North Slushynation XXL
% ABV NA
When King Neptune's supply of 450 North Brewing smoothie sours is stolen, SpongeBob and his starfish buddy Patrick set off from Bikini Bottom on a perilous journey to replenish his supply. First, the plucky albeit easily distracted heroes make a call to the Columbus, Indiana, brewery pleading with owner David Simmon to brew a new batch for the king. He said, "Yes." Second, they hit the road but face dangers that range from a biker gang, dehydration, and an absurd battle while balanced on David Hasselhoff's hairy leg. "Holy Chum Bucket!" yelled SpongeBob when he pulled up to 450 North's loading dock to discover Simmons brewed a special batch of SpongeBob-themed beers. Headed back to the sea, SpongeBob and Patrick dropped some of the beers in Tacoma, including Slushynation XXL, a smoothie sour conditioned on blueberry, plum, soursop, lemon, peach, and strawberry.
Equilibrium Miami BerlinerVice
4.5% ABV
Here's a Berliner weisse brewed for bikinis, sunshine, bad-boy cops, colorful drug lords, speedboats, and an entertainingly cheesy pastel-and-neon style. Equilibrium Brewery's Welcome to the Jungle is a tart and funky wild wheat ale aged in oak barrels with special fermentation and wild yeast strains. Their Miami BerlinerVice is Welcome To The Jungle refermented on copious amounts of blueberry, passionfruit, and guava.
Hoosier Spin To Win – Ace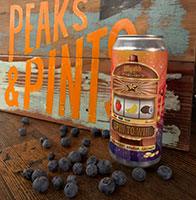 5.5% ABV
In 2015, founder Brian Nentrup opened Hoosier Brewing with an investment group in Greenwood, Indiana, then closed in 2018, only to re-open a year later with new investors. The small batch craft brewery focuses on crazy juicy IPAs, silky stouts, mouth-watering sours, crisp lagers, and fruity Berliner smoothies, which all can be enjoyed with throwing axes in their taproom. Their Spin To Win – Ace fruited sour features crazy amounts of real strawberry, blueberry, and gooseberry puree for a clean, tart, and super refreshing beer.
Great Notion Baked (Berry Hazelnut)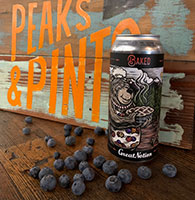 6% ABV
Great Notion has built a strong following in Portland and scored several gold and silver medals at the World Beer Cup, along with other accolades. It has also released a culinary series of beers, such as their Baked series. The latest Baked series fruited sour shows a Mama Bear holding a berry pie on the can. This batch is baked up with blueberry, marionberry, boysenberry, hazelnut, cinnamon, and vanilla, and milk sugar.
pFriem Bosbessen
6% ABV, 6 IBU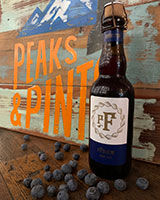 pFriem Family Brewers combines blend 1-, 2-, and 3-year-old lambic onto fresh Draper blueberries, grown just up the road from the Hood River brewery in Odell, at a rate of 3 pounds per gallon. They then added them to their established lambic at a whopping 2 pounds per gallon. The fruit and the lambic were then left alone to mingle for more than six months. Bosbessen's aromas of ripe fruit, white pepper and tobacco lead to a bright, jammy flavor that finishes as tart and tangy as the berries themselves. pFriem recommends pairing it with cheesecake.
Boulevard Big Blue Ox
8.5% ABV, 7 IBU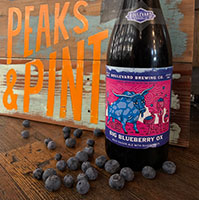 Boulevard Brewing team up with Jeremy Grinkey of Bruery Terreux to wrangle the Big Blue Ox. Fermented with both Belgian and wild yeasts, this saison is brewed with 8,000 pounds of whole blueberries. Pouring a rich shade of indigo, this bright, earthy possesses huge, rich aromas of blueberries and Brettanomyces funk. Expect low overall acidity, soft sweetness, and a dry finish, plus flavor and aroma centered around Brett and blueberries. This wild saison yearns to be paired with tangy goat cheese blueberry cheesecake.
Crooked Stave Serenata Notturna Blueberry
12% ABV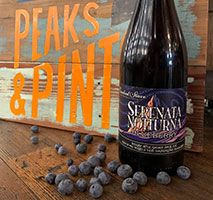 Crooked Stave is a play on the word "stave" — one of many strong wooden slats, collectively bound together by metal hoops to shape a wooden barrel. The Denver, Colorado brewery's name is a commitment to how closely it works with each barrel and embodies the love it puts into each beer. Wooden barrels are the focal point of the brewery and the beers it brews — specialty Brettanomyces-only, wild, sour, and barrel-aged beers. Serenata Notturna Blueberry is a barrel-aged golden ale with Washington state blueberries for a flavor of tart Brettanomyces, tart blueberries, and woodsy oak.
Black Raven Kitty Kat Blues
5.8% ABV, 35 IBU
From Redmond, comes this Black Raven Brewing unassuming pale ale that has the screws turned a bit with additions of dried blueberries, vanilla bean and, originally, organic mountain-grown catnip, but has since been substituted with hibiscus. The result is an easy drinking pale ale that finishes like this morning's blueberry muffin with, of course, vanilla, dry bittering hops and hibiscus.
LINK: Peaks & Pints cooler inventory
---