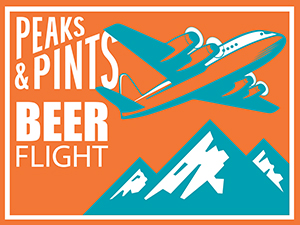 Block 15 Brewing wasn't the first brewery in Corvallis, that honor goes to Oregon Trail Brewery, which homebrewer Jerry Shadomy opened in 1987. Nick and Kristen Arzner were on Oregon Trail's tail 21 years when they opened Block 15 in the 1926 Gazette-Times newspaper building, just blocks away from Oregon State University and its prestigious Fermentation Science program. The Arzners took full advantage of Willamette Valley's agricultural abundance, which, of course, includes hops. Block 15 built a reputation for first-rate IPAs and other hop-forward ales, rock-solid renditions of classic recipes from around the world and a dazzling variety of Belgian-style brews, including cask-conditioned specialties featuring wild yeasts and exotic flavors. Today, Peaks and Pints presents a to-go flight of Block 15 craft beer that we call Peaks and Pints Pilot Program: Block 15 On The Fly.
Peaks and Pints Pilot Program: Block 15 On The Fly
Block 15 Gloria!
5% ABV
Block 15's original brewery sits in the heart of downtown Corvallis. The brewery's name hails from Corvallis' previous incarnation as Marysville and the old plat map location from the old town. Blending delicate malt character and zesty hops, Gloria! is Block 15's vision of the crisp, unfiltered pilsner. Brewed with floor-malted pilsner malts, it pours a hazy, straw-colored pint. Magnum, Hallertau, Oregon-grown Mt. Hood and Czech Saaz hops impart citrus, grass and floral spice, while Czech Pilsner yeast finishes clean and refreshing. Packaged after four weeks of cold lagering, this snapshot in flavor and aroma will last for a couple weeks, when stored cold. With extended cold storage, Gloria! mellows out to further balance these lively hop and yeast notes with its intricate malt backbone.
Block 15 Summer Knights
5.4% ABV
This unique German-style ale is fermented with traditional Kölsch ale yeast — producing fruity, rustic yeast notes — but cold-conditioned like a lager, resulting in a cleaner and more rounded character with a gold, slight haze. Brewed with Pilsner malts and German hops, Summer Knights offers crisp pilsner aromas, light fruit flavors, and mild hop notes in the finish.
Block 15 Dark Matter
5% ABV
Block 15 Brewing's Dark Matter is a dry porter, a style that technically doesn't exist — at least according to Beer Judge Certification Program, although American Porter style is the closest as the flavor tends to have a dark malt dryness in the finish. The Corvallis brewery combines deep, roasty malt character with notes of cocoa and dark fruit from the addition of chocolate to the conditioning tank — a rich blend of flavors that is balanced by a dry finish and gentle malt acidity.
Block 15 Ridgeback Red
5.5% ABV
Normally an in-house exclusive at Block 15's two Corvallis taprooms, Ridgeback Red features a blend of rustic malts with zesty hops grown in the Pacific Northwest. Balancing flavors of caramel and toasted nuts with pine, lemon and grapefruit hop character, it finishes delightfully crisp for a malt-forward beer.
Block 15 Peach Punch (You in the Eye)
7% ABV
A collaboration with hazy masters Great Notion Brewing, Block 15 Peach Punch (You in the Eye) is a luscious fruit forward hazy IPA fermented with peaches and apricots. Designed and brewed at Block 15 (Great Notion brewed the same version at their Portland brewery), Peach Punch is dry-hopped with a 1-2 knockout punch of galaxy and mosaic hops that's a little more apricot than peach. As the beer warms the fruitiness mellows out, and hops start to shine.
Block 15 Sticky Hands
8.1% ABV, 100 IBU
Block 15's Sticky Hands double IPA is a "Hop Experience Ale" featuring ample additions of sticky, resinous, lupulin packed hop buds grown in the Pacific Northwest. Sticky Hands begins with an aromatic blast of tropical fruits, citrus and dank herb; transitions into luscious hop flavor; and ends with a balanced bitter finish, gently propped up by pale malted barley and fermented with Block 15's privately banked Brewers yeast.
---