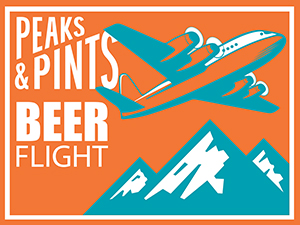 In April 2021, Block 15 Brewing's Sticky Hands double IPA received enough public votes to be crowned the Peaks & Pints Tournament of Beer: NW Double IPAs Champion. As part of their national notoriety from the win, the Corvallis brewery received a permanent handle through the summer at our craft beer bar, bottle shop and lounge in Tacoma's Proctor District. For those who visited us this summer know Block 15 often had two or three kegs tapped on our Western red cedar tap log. Nick and Kristen Arzner's Block 15 beer warrants such action. As you know, the summer is over. But Peaks & Pints love affair with Block 15 continues. A new round of Block 15 beers arrived at Peaks this weekend, which is reason enough to make them our to-go flight of the day. Stop by and enjoy Peaks and Pints Pilot Program: Block 15 Brewing On The Fly.
Peaks and Pints Pilot Program: Block 15 Brewing On The Fly
Block 15 Amusement 2021
5.4% ABV
Block 15 and De Garde Brewing's Amusement series is a rotating seasonal project that blends friendship, technique, and beer from both breweries. Amusement 2021 features a golden saison from Block 15, blended with 2-year-old spontaneously fermented and oak-aged wild ale from de Garde Brewing, then dry-hopped with Nelson Sauvin hops. The result is a delightfully dry, complex blend with notes of gooseberries and tart fruit.
Block 15 Ol' Saint Nick
9% ABV
Named after the Patron Saint of Brewers, Ol' Saint Nick is a generously malt-forward winter warmer constructed with a base of Maris Otter, honey malt, and caramel malt balanced by zesty hop character. Ol' Saint Nick offers notes of toffee, cocoa, plum, and caramel with citrusy hops and a warm, lingering finish.
Block 15 Nelson. Nelson? Nelson!
7% ABV
Named after both its founding region in New Zealand and the Sauvignon Blanc grape, Nelson Sauvin is an exciting, distinctive hop varietal that was released in 2000. Hailing from a small bay on the north coast of the country's South Island, the hop sports a compact cone shape with a tapered end. Nelson Sauvin hops have vigorous spring growth and can lend either a dominant hop character to a beer or something much more subtle. Aromas and taste range from citrus to mango and gooseberry, which are supplemented by hints of pepper and allspice. Block 15's Nelson. Nelson? Nelson! Is brewed with 100 percent Nelson Sauvin for vibrant hop notes of mango, lychee, and gooseberry underscore a bright aroma of white grape character. A gentle backing of flaked barley and oats supports this single-hop exploration with a soft mouthfeel and a sweet finish.
Block 15 Fresh Pow!
7% ABV
Block 15 has brewed this "winter IPA" again featuring resinous, citrusy, and tropical American and New Zealand hop varietals alongside a warm malt base — 2-Row, Superior Pilsen, Carafoam, flaked barley, oat malt, white wheat malt — designed to balance this wintry hop experience. Brewed in cooperation with Ashland artist Chris Herbst, the release of Fresh Pow! lands during a major dump in the mountains. Nice.
Block 15 The DAB Lab: Mo$aic Money
7.35% ABV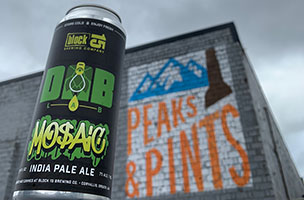 Block 15 incorporates CO2 hop extract technology in its The DAB Lab series of beers — "DAB" is an acronym for dank-ass beer. The series showcases CO2 extracts and even newer concentrates like cryogenically harvested lupulin powder, a yellowish substance obtained from oil- and acid-rich glands on the hop flower. Their latest DAB, Mo$aic Money, is a single-varietal exploration of one of the most multi-faceted hops around. It features Mosaic extract in the kettle, alongside Mosaic hops packed into the whirlpool and dry hopped like a billfold flush with Benjamins. Enjoy a surprising diversity of hop notes that includes berries, dank herbs, tropical fruit, pine, citrus, and hop money.
LINK: Peaks & Pints cooler inventory
---