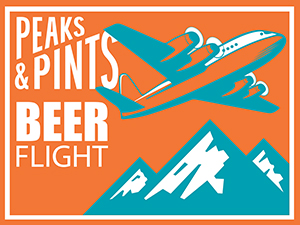 Here are a few things you might not know about Parkway Tavern manager Sean Jackson: He eats Belgian waffles every morning with a side of barleywine syrup; a statue of Manneken Pis of Brussels, the Belgian national symbol depicting a peeing boy, waters Jackson's home backyard hop plants; he eats his fries with mayo; Jackson loves flower carpets; he named his first homebrewed "Much to my Chimay." It's not shocking to learn Jackson chose a Belgian blonde for his second collaboration with E9 Brewing, titled SJ² Project. It's also not shocking E9 invited Jackson to their brew deck. He was E9 Head Brewer Shane Johns assistant brewer at the old Engine House No. 9 brewery at Sixth and Pine. In honor of the recently released SJ² Project, Peaks & Pints presents a to-go flight of Sean Jackson themed beers and ciders — a flight we call, Peaks and Pints Pilot Program: Sean Jackson On The Fly.
Peaks and Pints Pilot Program: Sean Jackson On The Fly
Superstition Super Station
5.5% ABV
Sean Jackson grew up in Arizona. He enjoyed the landscape, baseball, beer, and a bit of tomfoolery. Unfortunately, there aren't many Arizona breweries with a license to distribute in Washington state, if any. Peaks & Pints does carry Superstition Meadery out of Prescott, Arizona. In 2009, husband and wife Jeff and Jen Herbert were planning a Thanksgiving dinner in their Prescott, home when Jeff decided to create a beverage that paid homage to Jen's family's roots in Vermont. He busted open a home brewing kit she gifted him to make an alcoholic beverage made by fermenting honey with water and adding maple — mead. By 2012, the couple turned their hobby into Superstition Meadery, a mead and hard cider company. We currently carry Superstition Super Station, a delicious cherry, ginger, and lime hard cider.
E9 SJ² Project
6.7% ABV
As mentioned in the opening paragraph, Sean Jackson helped E9 Head Brewer brew beers in the original E9 brewery attached to the Engine House No. 9 restaurant and bar at Sixth and Pine. Jackson left E9 after he took over the Parkway manager job after John O'Gara passed away in March 2014. Jackson's first E9 collaboration, SJ Project, was a sour blonde. SJ² Project is an extremely approachable Belgian-style blonde ale with classic fruity esters on the nose, followed by clear crisp blonde sweetness with little hoppiness. E9 Sales Executive Katie Johnson (@ktjstudio) drew Jackson's portrait for SJ² Project's can art.
Rogue Dead Guy Ale
6.8% ABV, 40 IBU
Rogue Ales' Dead Guy Dead making this flight isn't a surprise to anyone familiar with Sean Jackson. The dude lives in a Dead Guy hat. It's always on his noggin'. Dead Guy Ale has been around for a while, and to many people, it's the standard that all American-made maibocks are held to. Dead Guy Ale incorporates Rogue's proprietary Pacman yeast, and features Pearl and Sterling hops for a robust take on the classic German beer. Although the beer's missing the style's bread crust, the present flavors are harmonious: Bread with toasted edges runs over the tongue before orange notes pop up. Hefty bitterness chases the swallow while peppery alcohol prickles the sip front to back.
Double Mountain Chocolate Stout
6.8% ABV, 55 IBU
Matt Coughlin was raised by folkies in Montana who taught him to play piano, guitar, and sing. He made his way to Tacoma where he tended bar at the Parkway Tavern, homebrewed with fellow Parkway bartender Sean Jackson, and performed with his band, Matt Coughlin and The Growlers. As previously mentioned, Jackson also brewed with Shane Johns at E9. Fifteen years or so ago, Coughlin, Jackson, and Johns were the Three Musketeers of the Tacoma beer scene. Coughlin moved to Hood River, Oregon, and worked his way up the Double Mountain Brewery & Cidery ladder to become a lead brewer. Therefore, it's logical to include a Double Mountain beer in this beer flight ode to Jackson. Recently hitting the shelves, Double Mountain Chocolate Stout. Brewed in collaboration with Ranger Chocolate Co., this smooth stout has notes of dark bread, baking chocolate, molasses, and dark fruit leading into a dry finish.
E9 Sekiu
10% ABV
Sean Jackson, in his early 40s, started coming to the Parkway Tavern when he was 22. He's worked there since January 2009, a month after beloved bartender Mathew Broaddus died. One of Jackson's favorite Parkway events is the annual Barleywine Festival in March, which has morphed into the John O'Gara Memorial Barleywine Week — O'Gara launched the Barleywine Festival in 2006. Jackson has taken the 11-percent beer festival to an 11 with hard-to-find barleywine tappings and the coveted ticketed Barleywine Brunch. E9 Brewing's recently released the bourbon barrel-aged Sekiu, which is worthy of Jackson's barleywine festival. The year the beer spent in Heaven Hill barrels added oak, toffee, caramel, and burnt sugar notes.
LINK: Peaks & Pints cooler inventory
---