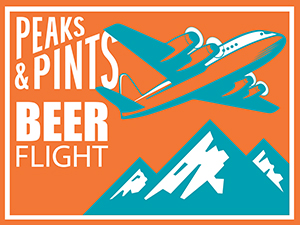 Nick and Kristen Arzner love Europe — specifically Belgium and the country's beers. They have traveled extensively through Belgium drinking the tastiest and most expertly brewed beers in the world — both as homebrewers and as owners of Block 15 Brewing in Corvallis. In addition to Sticky Hands and their popular IPAs, the Azners release seasonal Abbey ales and specialty beers — three of which Peaks & Pints highlights today in our to-go beer flight. Put down that can of Sticky Hands and grab Peaks and Pints Pilot Program: Block 15 Bottles On The Fly. OK, take the Sticky Hands too.
Peaks and Pints Pilot Program: Block 15 Bottles On the Fly
Block 15 Wonka Wit, Tangerine Vanilla Bean
4.75% ABV
The main base beer to Block 15's Wonka Wit is a witbier or Belgian wit (white) beer. This style has a distinctive spiciness from additions of coriander and chamomile, sometimes with an accent of citrus from orange peel. The Corvallis brewery messes with the style blending two-year-old, oak barrel matured wild witbiers, then maturing the blend with a young witbier in large oak casks for five months with orange and coriander. Last, they mature Wonka Wit with tangerine and Madagascar vanilla beans.
Block 15 Såjhon
4.8% ABV
Saisons are made special by their extremely unique yeast characters. Fermented hotter than most other beers, this allows for an array of truly weird and wonderful flavors. Brettanomyces has been living in beer barrels since before Claussen determined it was responsible for the "stale" flavor of leather and fruit that was so desirable in vatted English ales. Block 15 takes classic Saison yeast and blends it with Brettanomyces. The result is Såjhon mixed culture saison with mild funk and delicate acidity support notes of fresh hay and countryside flowers from a duo of noble German hops. A robust grist profile of both rye malt and flaked corn lend dryness and rustic earthiness to the finish.
Block 15 Wellspring
6.75% ABV
The Belgian pale ale style is gold to copper color. It has hop bitterness, but it's not an assertively bitter beer. The hops blend with the fruity aromas and spicy sweetness produced by Belgian yeast. Inspired by Belgian brewers' mastery of complexity and balance, Wellspring Belgian-style Pale Ale begins as a dry-hopped pale ale brewed with Belgian malts. It's then conditioned on Brettanomyces to produce effervescent natural carbonation, a fruity and rustic palate, and a classically Belgian dry finish.
---