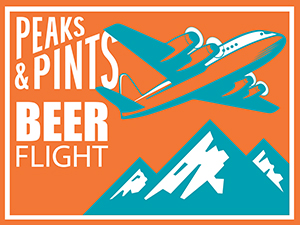 Tonight, Peaks & Pints celebrates the release of Block 15 Brewing's new The DAB Lab: Northern Lights IPA, which will only be available in Washington state and Block 15's two Corvallis, Oregon, taprooms. In addition to the Northern Lights, the Peaks & Pints' Ultimate Block 15 Party Tap Takeover Extravaganza will include draft beers from the Block 15 Distribution catalog, including Block 15's Sticky Hands Fruit Cup, 2018 Hypnosis Barleywine, and Turbulent Consequence sours, plus ForeLand Beer's Fresh Hop IPA and Arc Spectrum Festbier, de Garde Brewing's sours, The Ale Apothecary's La Tache, and many others. After the celebration, Peaks & Pints suggests you take home Block 15 beers — a to-go beer flight we're calling Peaks and Pints Pilot Program: Block 15 Beer Flight.
Peaks and Pints Pilot Program: Block 15 Beer Flight
Block 15 Kriek (2018)
6.75% ABV
Kriek 2018 features Willamette Valley Montmorency cherries from The Cherry Country. Each summer Block 15 packs first and second use bourbon barrels with these tart, red beauties and fill them with Enchantment, their mix-fermented oud bruin. Each winter they blend select barrels, marrying deep cherry character with notes from the barrels and balanced acidity. The 2018 blend features barrels and cherries from 2014 and 2016.
Block 15 Extra Special Bitter
5.5% ABV
ESB (or Extra Special Bitter), a staple of the British drinking scene, is not bitter in the sense of IPAs, but instead has grassy or earthy bitterness that accentuates the malts instead of hogging the flavor spotlight. The flavors from barbecued meat enrich the caramel flavors from the beer style, thus bringing together an experience that is better than just enjoying each individually. Block 15's ESB is an "extra special" variation on a classic English bitter highlighting a perfect harmony of imported English malts and hops. True to the tradition of English pub beers, this classic style balances complex malt notes of toasted nuts, caramel, and honey with gentle hop bitterness and a crisp water profile that lifts these complex flavors right off your palate from one refreshing sip to the next.
Block 15 The DAB Lab: Northern Lights
7% ABV
"Our head brewer is very excited about his beer," says Sasha Clement, Block 15 Washington sales and distribution manager. "He's been experimenting with Incognito hop extract especially for this new DAB Lab IPA, in addition to kettle additions of CTZ, Chinook, and Centennial hops along with a Simcoe CO2 extract and an early fermenter dab of Sultana hop oil." Northern Lights is also double dry hopped with Mosaic, Simcoe, and Mosaic Lupomax pellets. Expect an "absolute heater of an IPA" pushing hop saturation boundaries with layer upon layer of sticky, pungent, Northwest hops.
Block 15 Peach Punch (You in the Eye)
7% ABV
A collaboration with hazy masters Great Notion Brewing, Block 15 Peach Punch (You in the Eye) is a luscious fruit forward hazy IPA fermented with peaches and apricots. Designed and brewed at Block 15, Peach Punch is dry hopped with a 1-2 knockout punch of galaxy and mosaic hops that's a little more apricot than peach. As the beer warms the fruitiness mellows out, and hops start to shine.
Block 15 Animal Cookies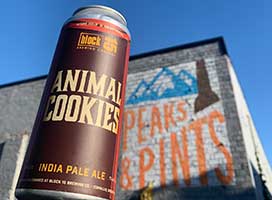 7% ABV
Brewed with Cashmere, Chinook, CTZ, and Mosaic hops, Block 15's Animal Cookies Hop Circus Ale is packed with sticky, pungent hops. Unleash a swirling circus of pineapple, tangerine, mango, pine, and dank herbs — balanced with sweet pale malt and malted oats for a soft mouthfeel and gentle finish.
Block 15 Sticky Hands Fruit Cup
8.1% ABV, 100 IBU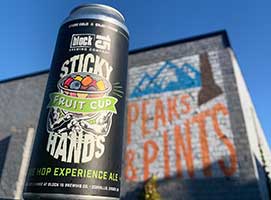 Block 15 Sticky Hands won the Peaks and Pints Tournament of Beer: NW Double IPAs. In February 2021, we ask Pacific Northwest residents to nominate their favorite doubles IPAs from their home state. Then, April 2-24, Peaks and Pints pitted the top 64 nominated Washington and Oregon-brewed double IPAs against one another in the mother of all craft beer brackets. Sticky Hands beat Bale Breaker Bottomcutter in the championship game, unleashing its ample additions of sticky, resinous, lupulin packed hop buds grown in the Pacific Northwest. Their Fruit Cup version of Sticky Hands features a medley of hops presenting fruit flavors reminiscent of pineapple, tangerine, blueberry, and a squeeze of fresh lemon.
Block 15 Hypnosis (2021)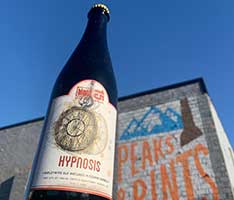 12.5% ABV
Brewed with specialty English malt, Block 15's Hypnosis rustic barleywine was matured for 12 months in freshly emptied French cognac barrels, imparting an entrancing complexity that features notes of plum, caramel, Red Flame raisins, marzipan, orange marmalade, and a whisper of barrel character.
LINK: Peaks & Pints cooler inventory
---