Ultimate Block 15 Party Tap Takeover Extravaganza
September 8, 2022 @ 5:00 pm

-

8:00 pm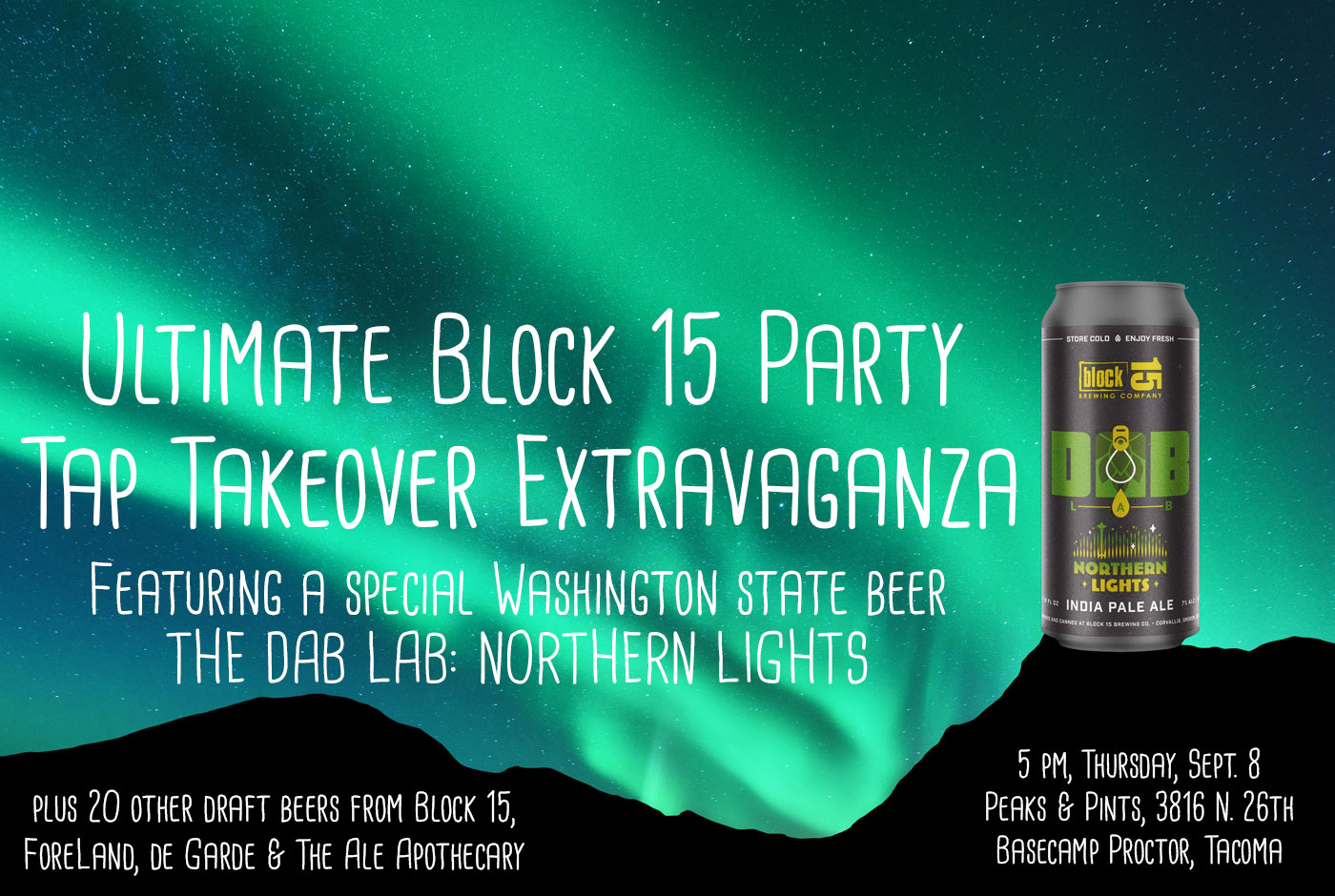 Ultimate Block 15 Party Tap Takeover Extravaganza
Join Peaks & Pints at 5 p.m. Thursday, Sept. 8 as we celebrate the release of Block 15 Brewing's new The DAB Lab: Northern Lights IPA. In addition to the Northern Lights, the Peaks & Pints' Ultimate Block 15 Party Tap Takeover Extravaganza will include draft beers from the Block 15 Distribution catalog, including Block 15's Sticky Hands Fruit Cup, 2018 Hypnosis Barleywine, Turbulent Consequence sours, plus ForeLand Beer's Fresh Hop IPA and Arc Spectrum Festbier, de Garde Brewing sours, The Ale Apothecary La Tache, and many others!
Block 15's The DAB Lab Northern Lights will only be available in Washington state, in addition to the Block 15 taprooms in Oregon. Special release parties also include Oly Taproom Sept. 7 and Chuck's Hop Shop Greenwood Sept. 9.
"Our head brewer is very excited about his beer," says Sasha Clement, Block 15 Washington sales and distribution manager. "He's been experimenting with Incognito hop extract especially for this new DAB Lab IPA, in addition to kettle additions of CTZ, Chinook, and Centennial hops along with a Simcoe CO2 extract and an early fermenter dab of Sultana hop oil." Northern Lights is also double dry hopped with Mosaic, Simcoe, and Mosaic Lupomax pellets. Expect an "absolute heater of an IPA" pushing hop saturation boundaries with layer upon layer of sticky, pungent, Northwest hops.
The Block 15 brewers will be in the house to discuss the beers, plus offer prizes.
ULTIMATE BLOCK 15 PARTY TAP TAKEOVER EXTRAVAGANZA LIST
Block 15 The DAB Lab Northern Lights IPA
Block 15 Sticky Hands Fruit Cup
Block 15 Fluffhead Hazy IPA
Block 15 Joy Modern Pale Ale
Block 15 Altbier
Block 15 Kumo Rice Lager
Block 15 Blocktoberfest
Block 15 Turbulent Consequence Huckleberry 2018
Block 15 Turbulent Consequence Peche 2018
Block 15 Kriek 2018
Block 15 Hypnosis Bbl English Barleywine
ForeLand Fresh Hop IPA
ForeLand Solemn Hills Dark Lager
ForeLand Apogean Tide Helles Lager
ForeLand Gentle Dreams Fruited Cream Ale
ForeLand Spectrum Festbier
The Ale Apothecary La Tache
De Garde Sour
De Garde Sour
Related Events