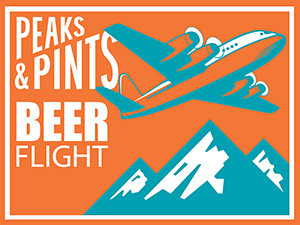 Big Sky Brewing has been leading the Montana craft beer scene since friends Bjorn Nabozney, Neal Leathers, and Brad Robinson launched it in 1995. Homebrewers Leathers and Robinson moved to Missoula in the summer of 1990, and met Nabozney at Sportsmen's Surplus and High Country Sports employee lounge. The three felt Missoula could use an ale brewery to balance the city's to lager-producing brewery, Bayern. It didn't take long for Big Sky to find success, especially after the introduction of Moose Drool Brown Ale. Today, Big Sky Brewing beers are available in 24 western states. Big Sky's beer names tend to reflect the nature of Montana — besides Moose Drool, other brew names include Scape Goat Pale Ale, Pygmy Owl IPA, and Slow Elk Oatmeal Stout. Peaks & Pints chose four Big Sky beers for our to-go flight, Peaks and Pints Pilot Program: Big Sky On The Fly.
Peaks and Pints Pilot Program: Big Sky On The Fly
Big Sky Moose Drool Brown Ale
5.1% ABV, 26 IBU
Sure, the name is slightly revolting, but once you get past that, you are in for a treat. Big Sky's Moose Drool Brown Ale is brewed with pale, caramel, chocolate, and whole black malts balanced with Kent Goldings, Liberty and Willamette hops. Hints of robust toffee and honey swirls around the nose mostly from the malt with a hint of spice added by the hops. On the tongue, brown sugar and chocolate blend perfectly finishing with a clean bitterness and slightly dry, but not harsh.
Big Sky Trout Slayer
5% ABV, 35 IBU
After acquiring the name that Kalispell businessman Brian Beck's Company B licensed to Bayern Brewery, Big Sky released their own Trout Slayer, a filtered wheat ale fermented at cool temperatures. Brewed with Palisade, Glacier, and Mt. Hood hops for an assertive, crisp bitterness with added green grass and floral notes to whole grain bread flavors and lightly toasted malt sweetness.
Big Sky IPA
6.2% ABV, 65 IBU
In Montana, many classic memories are made right after someone says, "Hold my beer and watch this." These bold, assertive moments deserve a bold, assertive beer — Big Sky IPA. This IPA features Simcoe hops, which give it both a fruity, piney hop nose and a clean, piney, resinous, slightly oily, ringing bitterness. Although the hops dominate, they are not extreme. Expect a nice balance sweet malt and fresh citrus.
Big Sky Shake A Day IPA
6.5% ABV, 65 IBU
In Montana, there exists a pastime bar game called Shake-A-Day. Each day at the state's watering hole, you get one opportunity to roll five of the kind to win the current pot. Big Sky named their aggressive IPA after said game, rolling the dice on melding Pacific Northwest and Australian hop varieties. The winning result offers bright aromas and resinous pine with subtle melon and bready malts on the palate.
---