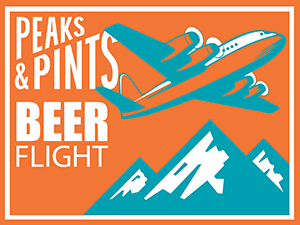 Today isn't just Thursday; it's Belgian National Day — a celebration that dates back 188 years, to July 21 1831, and the happy moment when Leopold of Saxe-Cobourg swore allegiance to the Belgian constitution and became the first king of a newly forged European country. In Belgium, the anniversary will be marked with wild scenes and general merriment — or, at least, a few beers and maybe a walk in the park — from Antwerp to Zaventem. At Peaks and Pints, the anniversary will be marked by a Belgian beer tap takeover. In conjunction with the Belgian draft beer, we present an all-day Belgian beer to-go flight we call Peaks and Pints Pilot Program: Belgian National Day Beer Flight.
Peaks and Pints Pilot Program: Belgian National Day Beer Flight
Lindemans Kriek
3.5% ABV
Lambics are sharp, acidic, and fruity. They can be compared to yogurt or vinegar but with hints of sweetness. There are also several sub-styles of lambics. Lindemans was the first to introduce lambics to the American market (in 1979) and have remained the most popular brand. While they also make a peach, raspberry, and pear lambic, the cherry is their most traditional flavor. Whole fresh cherries are added to the casks, triggering a third fermentation and promoting a spritz-y carbonation that gives the finished beer a champagne-like character with excellent mouthfeel. The flavor is akin to a natural black cherry soda, having a dark sweetness with only a flash of malty bitterness.
Fantôme Red Spiritus Automn Project
6% ABV
Brewmaster Dany Prignon creates unique farmhouse ales with herbs, fruits, and spices. Since starting Brasserie Fantôme with his father in 1988, Prignon has put the tiny town of Soy, Belgium on the map for beer geeks world-wide. The brewery is a pilgrimage for overseas brewers, and quite a few of the newer craft operations in Belgium, despite Fantôme's relative anonymity in his home country, which might be due to Fantôme exporting more than 90 percent of what it produces to other countries. Fantôme Red Spiritus Automn' Project is a saison that seeks to evoke those colorful autumn days brought by the eclectic plant kingdom. It pours a dark red color with citrus, light herbal, and some fruit on the nose. On the tongue, expect a little toasty maltiness, subtle mixed stone fruit, red currant, lots of herbs, and earthiness. Although the spices dominate, there is also a slight sweetness and fruity nuances.
Tilquin Oude Sureau Tilquin à l'ancienne 2020
6.5% ABV
Perhaps the most famous gueuze brewery is Gueuzerie Tilquin. In 2009, a former bioengineer named Pierre Tilquin (it's pronounced "till-CAN," with a nasalized final vowel) founded the small family brewery based in Bierghes in Belgium's Senne valley. Tilquin purchases worts from Boon, Lindemans, Cantillon and Girardin, then ferments them in their own oak barrels. This allows for the blending — typically 50 percent one-year old lambic, 30 percent two-year old lambic and 20 percent three-year old lambic. Old Sureau Tilquin is a spontaneous fermentation beer made from the fermentation of 125 g of elderberries by liter of lambic. Unfiltered unpasteurized, this beer is refermented in the bottle. While the nose is funky with a hint of fruit, the flavor is jammy with light acidic and an undertone of funk.
3 Fonteinen Hommage Bio Frambozen (Season 18/19) Blend No. 110
8.8% ABV
Brouwerij 3 Fonteinen, or Drie Fonteinen, focuses on aging and blending the beers of other lambic brewers. It's a particularly Belgian concept that the creative process in producing a beer comes not when its ingredients are combined and fermented, but in how the resulting beer is aged and blended with other vintages to create a new transcendent concoction. In this case, 3 Fonteinen Hommage Bio Frambozen (Season 18/19) Blend No, 110 is the result of macerating hand-picked, whole sour cherries and (organic) raspberries on young lambic. This fruit lambic is then blended again with some more lambic to obtain a minimum intensity of 35 percent of fruit. Hommage Bio is a bodied raspberry lambic beer, with an intense deep red forest fruit bouquet.
Brouwerij der Trappisten van Westmalle Tripel
9.5% ABV, 36 IBU
In 1836 the Belgian Westmalle monastery became a Trappist Abbey and began brewing beer shortly thereafter. The holy suds they produced started out as an insider-only deal — a choice beverage to be made and enjoyed by Trappists and Trappists alone, but eventually they decided to expand and opened a public beer hall in the early 1930s. Westmalle embodies the tripel style with a thoughtful balance of sweet, fresh pear, lemon zest and a dash of peppery spice. Its flirtatious effervescence sweeps the mouth clean, while lingering lemony hops leave the mouth pining for more. It's an exceptional beer, with a great deal of finesse and elegance and a splendid enduring aftertaste.
Chimay 150 (Green)
10% ABV, 31 IBU
Chimay is brewed in Belgium by Cistercian Trappist monks who apparently have a direct line to God when it comes to the more ethereal matters of the brewers' art. This champagne of beers goes down smooth, follows its creamy head with a silky mouthfeel and fruity aroma, and packs a serious wallop. The Trappist monks are cloistered away in Abbey de Scourmont in Belgium (where they also make tasty Chimay cheese) with the operation's profits paying for the monks' pious lifestyle and charitable efforts. Having been around since 1862, Chimay's a relatively new entry in the world of godly beverages. Chimay 150 was brewed to celebrate the 150th birthday of the brewery. It's a strong, blond beer with mint, bergamot, lime, and eucalyptus aromas enhanced by a touch of invigorating ginger. It's mellow, rounded body and smoky, spicy flavor is typical of Chimay beers. Brewed with Saaz and Hallertau Mittelfrüh hops, a secret spice is added to produce this unique taste.
LINK: Peaks & Pints Pilot Program
---